This article is 4 years old. It was published on May 15, 2018.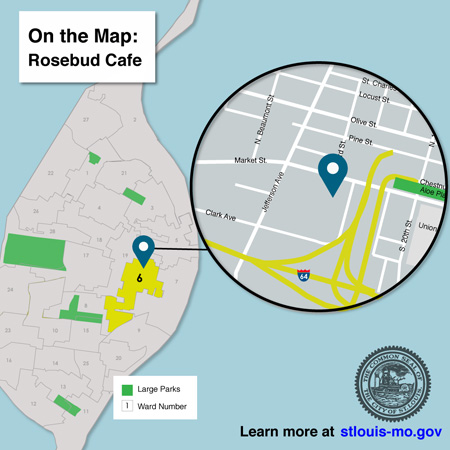 Too often the history of our city goes untold. The streets we walk down or houses we pass have a storied past that is sometimes forgotten. To commemorate Black History throughout the year, we will be sharing the stories of places in our city that in one way or another have been home to the rich history of Black St. Louisans.
This edition of On the Map focuses on Rosebud Cafe, a popular spot for St. Louis ragtime musicians at the turn of the twentieth century owned by Tom Turpin.
Tom Turpin moved with his family from his hometown of Savannah, Georgia to St. Louis in the early 1880s. His father, "Honest John", opened a saloon and eventually Tom opened his own establishment - the Rosebud Cafe.
Over time, the Rosebud Cafe became a hub for ragtime musicians including Scott Joplin and Joe Jordan and fans from the St. Louis area and around the country. This did not happen by accident. In addition to owning the cafe, Tom Turpin was a pianist who played and composed ragtime music. While he did not rise to the fame of other ragtime musicians like Joplin, Turpin was well known for the music he composed. With the composition of the "Harlem Rag," Turpin became the first African American to publish a "rag" or ragtime song. Turpin went on to compose other ragtime hits including "St. Louis Rag," "Buffalo Rag," "The Bowery Buck," and "A  Ragtime Nightmare."
His music and the Rosebud Cafe earned Turpin the title of "Father of St. Louis Ragtime," as noted on his tombstone in St. Peter's Cemetery in Normandy, MO.  
The Rosebud Cafe eventually closed in 1906. The legacy of Rosebud Cafe lives on in Scott Joplin's song "The Rosebud March."
The original Rosebud Cafe was located downtown at 2220-2222 Market Street. A New Rosebud Cafe modeled after the original is now part of the Scott Joplin House State Historic Site at 2658 Delmar Boulevard.
Resources
Discovering African-American St. Louis: A Guide to Historic Sites by John Aaron Wright

City of Gabriels: The History of Jazz in St. Louis, 1895-1973 by Dennis Owsley

They All Played Ragtime - The True Story of American Music by Rudi Blesh