This article is 7 years old. It was published on May 4, 2015.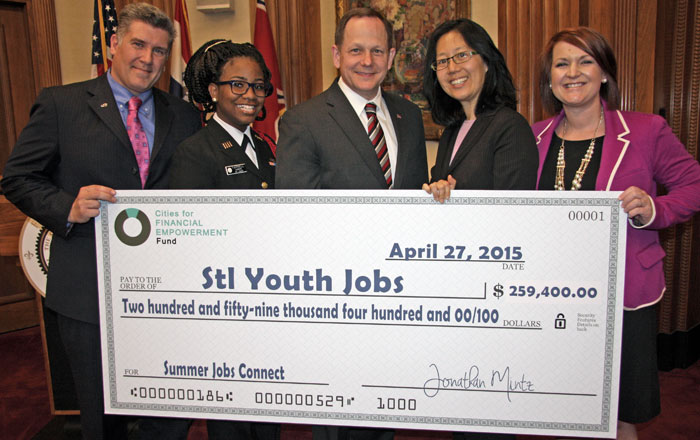 Stl Youth Jobs, now in its third year, is putting 16-23 year olds to work in the City of St. Louis with the help of public and private investment. Stl Youth Jobs engages young adults from high crime, high poverty neighborhoods in meaningful employment to reduce crime, increase academic success, and make it more likely that they will get a second job. Rewarding that work with a paycheck teaches young adults the value of discipline, sacrifice, respect and teamwork.
The idea for Stl Youth Jobs came from Mayor Francis Slay's St. Louis Regional Youth Violence Prevention Task Force to give a hand up to at-risk young people.
"An investment in Stl Youth Jobs shows young people that adults care about them," Mayor Slay said. "These jobs will provide them with something positive to do. They will build self esteem and self respect, and teach life and job skills that will serve our young adults well for the rest of their lives. I look forward to welcoming two Stl Youth Jobs participants to my office this summer."
Stl Youth Jobs has grown to serve nearly 1,500 young adults this summer, which exceeds the Mayor's Sustainability Action Agenda goal. Because of the program's tremendous success, and thanks to a generous donation by the Incarnate Word Foundation, Hillary Frey has been brought on as Executive Director of Stl Youth Jobs to expand the reach and grow funding to help more young people on the path to success.
"Stl Youth Jobs is building a youth employment collective impact effort in our region in order to align the strengths of our sector to ultimately transform outcomes and equip youth with the skills necessary to create their own path to a successful career," Frey said.
Each Stl Youth Jobs participant will receive training, on-going job coaching, and financial literacy classes from MERS Goodwill.
Those classes will be funded through a grant by the Citi Foundation and Cities for Financial Empowerment Fund, which announced a quarter-million dollars donation to Stl Youth Jobs as part of its Pathways to Progress initiative.
"A summer job can be a defining moment for a young person that can set him or her on a path toward professional success," Brandee McHale, President of the Citi Foundation, said. "We are pleased to collaborate with Mayor Slay in the effort to provide economic opportunities for young people across St. Louis."
The funding will ensure that every Stl Youth Jobs participant has the skills to budget and save and access to his/her own free checking and savings accounts, provided by 1st Financial Federal Credit Union.
"We firmly believe the first step in successful employment is not filling out an application, but having a trusted financial partner that can help navigate some of the most important decisions that will come with receiving a regular paycheck," Carol Minges, CEO, 1st Financial Federal Credit Union, said. "Through this program, our only goal is to help Stl Youth Jobs employees keep more of their hard earned money and gain insight into their finances that will serve them well throughout their entire lives."
Stl Youth Jobs is successful because of private and public funding.
Mayor Slay has added nearly $300,000 into the budget for Stl Youth Jobs;$100,000 each from the City's Public Safety Trust Fund, general revenue, and Community Development Block Grants.
Missouri Governor Jay Nixon also recognized this growing need and added state funding for 2,000 more youth to be able to get a job. One-thousand of those jobs will stay here in the City and will be administered by the St. Louis Agency on Training and Employment (SLATE). The remaining will help young adults in St. Louis County.
And on top of that, corporations and local businesses have donated money and job opportunities. But this year, even with the additional jobs available this summer, there is a waiting list for employment.
"Businesses know that they are helping to develop our City's next workforce, and in turn, perhaps some of their future employees," Mayor Slay said. "It is our goal to make sure this funding is sustained, so that every summer – not just this summer –young people have the opportunities to hone their job skills, develop a strong work ethic and become a ready and capable workforce for future jobs of our City."
It costs $2,200 to fund one program participant, including their salary, job training, financial literacy education, and job coaching. Businesses may choose to either fund an employee and/or provide a job placement for a young adult. Sign up to fund or provide jobs here.
Department:


Office of the Mayor
St. Louis Agency on Training and Employment


Topic:


Youth Employment