Road Closures for 'The Color Run' this Saturday in Downtown St. Louis
10,000 runners expected to participate in the colorful fun run
Published: 08-16-2012
The City's Department of Public Safety Office of Special Events is alerting motorists about the streets that will be closed the morning of Saturday, Aug. 18 in conjunction with "The Color Run." 
The 5K Run will step off at 8 a.m. from Market & 14th Streets, proceed west on Market to Compton, north on Compton to Olive, east on Olive to 18th Street, south on 18th to Chestnut and east on Chestnut to 15th to the start/finish area near Soldiers' Memorial.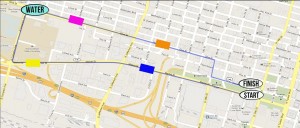 The schedule of road closures is as follows:
 Aug. 18, 2012
 4 a.m. – Festival area between Market, 15th, Pine, and Tucker will be closed.  Market and 15th will be closed, but Pine and Tucker will be open.
6:30 a.m. – MoDOT will close Interstate ramps.
7 a.m. – Route will be closed to traffic (except Compton Avenue).  (See map for route.)
7:30 a.m. – Compton   Avenue will be closed between Market and Olive.
8 a.m. – Run begins
Approximately 9:30 a.m. Compton Avenue re-opens.
Approximately 10:30 a.m. Market Street re-opens
To learn more about this run with the colorful twist, visit http://www.thecolorrun.com.
# # #
More Stories
Raises the Wage in the City of St. Louis to $11 by 2018. Kansas City Mayor James and Mayor Slay Call for Statewide Increase
Weekly newsletter with timely safety tips and info about upcoming events in St. Louis City
Chief of Staff, Elaine Spearman, presents a legal brief regarding funding for body cameras for the STL Police Department.