Police Chief Search and Hiring
Information, meetings, documents, RFPs and more related to the 2022 search for a new City of St. Louis Police Chief
Overview
St. Louis Metropolitan Police Department Chief John Hayden announced his intention to retire on February 23, 2022 after 35 years of service to the City. The announcement offered the City time to conduct an extensive, nationwide search process for a new police chief. The City's search focused on individuals who are experienced in 21st-century policing methods.
New chief Robert Tracy was announced on Wednesday, December 14. His first day will be January 9, 2023.
Meet New Police Chief Robert J. Tracy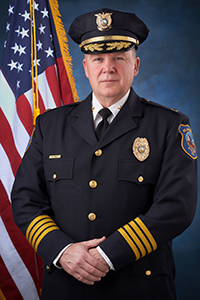 Chief Robert J. Tracy has more than 30 years of law enforcement experience with the New York Police Department and Chicago Police Department, including top executive law enforcement leadership positions in New York City and a top-level law enforcement leadership position in the City of Chicago. Since April 14, 2017, he has served as the Chief of Police for the City of Wilmington, Delaware.
Chief Tracy built a distinguished record of achievement and advancement through his positions with the New York Police Department. Chief Tracy was the Commander of a newly created Firearms Suppression Division, responsible for the coordination of tasks across several citywide units. He also served as the Commander of the Firearms Investigation Unit, working with Organized Crime Investigation Division and ATF/NYPD Joint Firearms Task Force. Chief Tracy led the Violent Felony Squad, the NYPD/U.S. Marshal Regional Task Force, and supervised the Bronx/Manhattan Warrant Squads.
In Chicago, Chief Tracy held the position as the principal Crime Control Strategist. In this capacity, Chief Tracy instituted various strategies that greatly affected crime statistics.
As the Chief of Police for the Wilmington Department of Police, Chief Tracy continued the course with his strategies. He has created and instituted the CompStat process along with developing and streamlining the department's methods for Intelligence-Based Policing. Chief Tracy has also implemented Group Violence Intervention in conjunction with the National Network of Safe Communities and John Jay College of Criminal Justice in New York City.
Chief Tracy holds a Masters in Public Administration from Marist College and a Bachelor of Arts in History from SUNY, Empire State College, and has received professional training in various topics. He is currently a member of the ATF National Crime Gun Intelligence Governing Board; the Police Executive Research Forum (PERF); the International Association of Chiefs of Police/Private Sector Liaison Section; the Delaware Police Chiefs' Association; and the Delaware Governor's Juvenile Justice Advisory Group, as well as numerous other groups and boards.
Chief Tracy was born in the Bronx, New York City, NY, is married, and has five children. He currently resides in Wilmington, Delaware.
Police Chief Position Details
The City of St. Louis is seeking a Police Commissioner. Commissioner reports to the Director of Public Safety and will play a vital role in citywide efforts to re-envision public safety. Commissioner will assist in the implementation of plans to focus personnel on violent crimes, partner with community members to ensure responsive, community policing, and engage in efforts to remove policing from issues better solved through behavioral health interventions.
Duties include:
executing the budget;
assigning personnel;
maintaining accountability;
overseeing field operations, investigations and support services/general administration;
and coordinating activities with other City departments and outside agencies.
Qualifications: A Bachelor's degree from an accredited college or university with major course work in Criminal Justice, Police Science, Public or Business Administration, or a closely related field; plus ten years of senior command experience at the rank of Police Captain or higher. OR an equivalent combination of education, training and experience.
Certification: Must be certified or eligible for certification as a Police Officer by the State of Missouri.
License: Must possess and maintain a valid Missouri driver's license while employed by the City of St. Louis.