This article is 9 years old. It was published on April 30, 2013.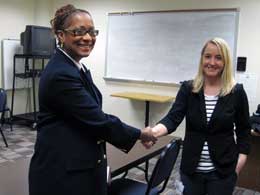 Hudson's Bay Company (HBC), operator of Lord & Taylor department stores, recently made the decision to consolidate and relocate its IT Delivery Center to St. Louis City. They heard about SLATE and the no-cost services we provide through conversations with the Board of Aldermen and other City officials.
On March 19, Lord & Taylor senior management worked closely with SLATE's Business Development department on-site at the City Hall West Missouri Career Center. Throughout the day, nearly 60 candidates for approximately 40 open positions were pre-screened by SLATE staff on behalf of HBC. As a result, 30 candidates were interviewed, many of whom are being seriously considered for full-time positions.
"The event was successful because of a great process," Janis Leigh, DVP of Human Resources at Hudson's Bay, told us. "The SLATE team offered incredible support to our HBC team and this showed in the quality of the pre-screened candidates and the easy flow... thank you so much!" Both organizations are hoping to partner together again on similar events later this year.
HBC stated that operating costs, state and local incentives and the quality of the IT talent pool were key factors in the final decision to relocate their IT Delivery Center to the City of St. Louis. Founded in 1670 and the longest continually operated company in North America, HBC is headquartered in Canada. They own over 50 stores and outlet locations in the United States, primarily in the northeast, but increasingly in the Midwest. Their recent decision to relocate, along with other employers such as Unisys, is helping to maintain the St. Louis community's reputation as a leading destination for information technology-based services.

Department:


St. Louis Agency on Training and Employment