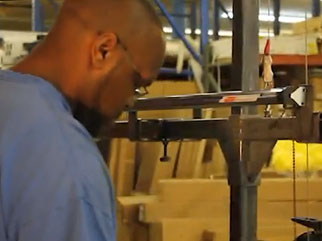 At the 2012 Missouri Association of Workforce Development(MAWD) Conference on June 8, Habitata Building Products / Halcyon Shades was presented with the "Small Employer Partnership Award" in honor of their productive and innovative working relationship with the St. Louis Agency of Training and Employment (SLATE). The Employer Partnership Award recognizes businesses that partner with Career Centers, demonstrate a commitment to their community and to Missouri's workforce that results in skill upgrades or employment for job seekers.
In a special video presented at the MAWD award ceremony, Habitata/Halcyon Shades President Jane Quartel stated, "We worked very closely with SLATE in getting our employees hired, pre-screened, and trained, and to this day we have a very close and fundamental relationship...we love working with them because they bring us qualified candidates." Habitata relies on SLATE's Business Development Department for its recruiting needs, resulting in the placement of a number of deserving job seekers, including veterans and ex-offenders. In addition, the company has hosted networking events to introduce SLATE's no-cost services to numerous other area businesses.
Earlier this year, Habitata was presented with a Flag of Freedom Award for their contributions to Governor Nixon's Show-Me Heroes initiative, established to reach out to Missouri's Veterans and National Guard members and help them reconnect with meaningful careers. David Kenyon, Jane Quartel and Kevin Schaedler purchased Halcyon Shades from a corporate conglomerate in early 2009, and immediately moved the business to an abandoned warehouse in the City of St. Louis, where they have rapidly become a vital asset to the St. Louis business community.
Department:


St. Louis Agency on Training and Employment