Challenge Unlimited Offers Janitorial Registered Apprenticeship Program, Career Path Certification for Job Seekers with Disabilities
SLATE-Challenge Unlimited Registered Apprenticeship will help people with disabilities obtain training and certification to secure janitorial jobs
April 17, 2018
|
3 min reading time
This article is 5 years old. It was published on April 17, 2018.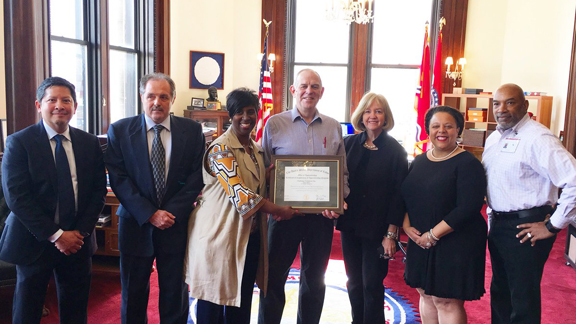 Individuals with disabilities living in St. Louis and the bi-state metro area now have new career path to certification and employment. The St. Louis Agency on Training and Employment (SLATE), in partnership with Challenge Unlimited, Inc., announces the launch of an innovative U.S. Department of Labor Registered Apprenticeship Program to provide people with disabilities a unique opportunity for training and certification to secure janitorial jobs.
The new Apprenticeship was announced at St. Louis City Hall on April 6, 2018, where Mayor Lyda Krewson warmly acknowledged Challenge Unlimited and the significance of this new program for people with disabilities as "an opportunity to earn a living for themselves and their families, while feeling pride from work." Challenge Unlimited was then presented with a special plaque of recognition from the Department of Labor (DOL).
SLATE Executive Director, Dr. Alice M. Prince, welcomed the new apprenticeship to St. Louis. "We are proud to partner with Challenge Unlimited and the U.S. Department of Labor to provide people with disabilities living in our area with this valuable opportunity," she said. "We never miss an opportunity to offer hope and encouragement to our community along their journey to better lives."
The newly-established apprenticeship program provides hands-on professional development and additional skills training to individuals with disabilities who are interested in custodial / janitorial employment. Program participants will be placed on a Cleaning Industry Management Standard (CIMS) certified janitorial contract and are offered the opportunity to achieve training certifications through both the CIMS training programs and the Challenge Unlimited Department of Labor Registered Apprenticeship certification program. Participants can also receive assistance in identifying job preferences, interview preparation, and securing employment.
"This groundbreaking apprenticeship program will impact hundreds of individuals with disabilities in our region and across multiple states," said Charlotte Hammond, President and CEO of Challenge Unlimited. "This employment program will provide education and training opportunities to create a more defined career path for individuals with disabilities. With support from organizations like SLATE, we are working together to build a well-trained workforce that meets the needs of the janitorial industry."
The Bureau of Labor Statistics (BLS) projects 10% growth in the field of janitorial services over the next decade, an industry that services nearly every facility - from hospitals and schools, to office buildings and event spaces. Workers in this field have a broad skill set, which can include administrative, customer relations, equipment and building repair, while ensuring safety and compliance for their clientele.
The team at SLATE will be responsible for identifying qualified individuals interested in joining the custodial workforce, as well as providing access to funding for training and supportive services. Combined, these resources create a truly robust opportunity for people with disabilities on both sides of the river seeking employment in this vital service field.
SLATE demonstrates its commitment to citizens with disabilities through its all-accessible offices, partnerships with the Missouri Department of Vocational Rehabilitation and community organizations serving people with disabilities, and - most notably, through its annual initiative Accommodation for Success, a reverse job fair and educational event which educates employers about the benefits of hiring diverse workforce, hosted by SLATE in August since 2015.
Challenge Unlimited has been a primary supporter and contributor to Accommodation for Success since its inception. This new partnership with Challenge Unlimited expands SLATE's capacity to offer customers with disabilities opportunities to start or advance their careers for competitive employment to customers with disabilities, while increasing their community visibility and participation.
Individuals with disabilities who are interested in obtaining certification for custodial / janitorial employment and consideration for opportunities with Challenge Unlimited are invited to visit SLATE at 1520 Market Street in downtown St. Louis, or call (314) 589-8000 to learn more about the program (Missouri Relay Service at 711). Auxiliary aids and services are available upon request to individuals with disabilities. Future job openings at Challenge Unlimited will be posted on Missouri Job Portal, at jobs.mo.gov, as they become available.
To learn more about how your business and human resource team can participate in the 2018 Accommodation for Success event scheduled for Thursday, August 9, contact James Sahaida, SLATE Employment and Training Specialist at jsahaida@stlworks.com.
Department:


St. Louis Agency on Training and Employment