Compass Rose Participants Visit PARIC Construction Site at Enterprise Center; SLATE Partners with Construction Contractors to Establish Long-Term Success for Reentry Youth
SLATE - PARIC partnership helps troubled youth lacking work experience gain immediate employment or further education in the construction industry
August 16, 2018
|
2 min reading time
This article is 4 years old. It was published on August 16, 2018.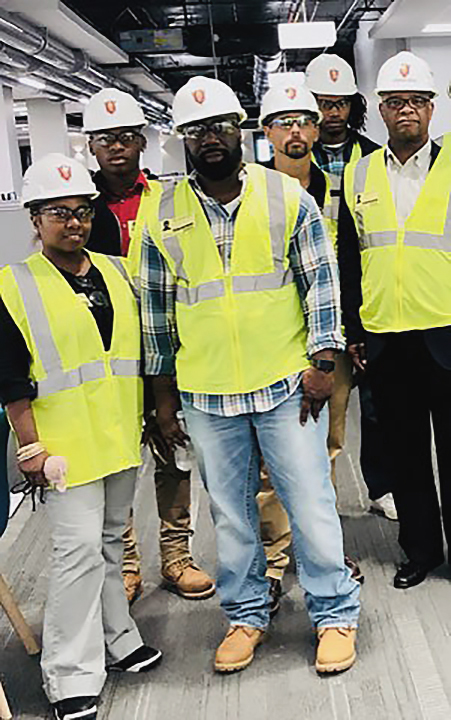 August 15, 2018, ST. LOUIS, MO – On August 7, a total of 14 SLATE representatives and participants from the Compass Rose Collaborative reentry program visited the PARIC construction site at Enterprise Center (formerly Scottrade). The Collaborative is geared towards developing partnerships that help resolve challenges young people face when entering the workforce and educational systems after significant brushes with the law. The SLATE - PARIC visit was organized to encourage young adults lacking work experiences to consider careers in construction as a way to break devastating cycle of poverty and crime, and establish successful pathways to productive employment or further education.
During their visit, guests participated in a presentation lead by Howard Hayes, Vice President of Diversity and Inclusion for PARIC, and Bill Willman, PARIC Superintendent. They learned about PARIC's long history of building projects in the St. Louis City communities based on diverse workforce, open and inclusive work environments, other hiring practices they follow in spite of the obvious challenges that persist in some neighborhoods, especially those suffering from high crime rates and low public safety.
Often, these challenges are exacerbated when the unemployed individuals released by the justice system return to their neighborhoods, the same environment that sent them off to prison to begin with. The Compass Rose Collaborative program intercepts youth upon their release and directs them out of the criminal justice system by providing a broad spectrum of job-related skills and career-building opportunities. Other positive aspects of the program include positive youth development, community support services for recently-released individuals, work readiness, development, and placement, and peer learning through job shadowing, apprenticeships, and internships.
SLATE - PARIC partnership helps troubled youth gain immediate employment or further education in the construction industry. PARIC's openness towards developing relationships with the community makes SLATE a natural partner known for innovative workforce solutions when it comes to inclusion and diversity. SLATE has been helping local contractors working on construction projects using public funding fulfill their commitment to diversity in workforce, as outlined by the City Ordinance 69427.
"It was an honor to host SLATE and several highly qualified young people at one of the Paric construction sites. Working with SLATE is always a pleasure, because we share the same goals, the creation of a world class workforce for St. Louis, particularly in the area of construction," said Howard Hayes, Vice President of Diversity and Inclusion at PARIC. "Dr. Prince, using the 21st century technology and community outreach efforts second to none, is assisting Paric with finding the workers needed for our projects. We would recommend SLATE partnership be on the agenda of every CEO in St. Louis City and beyond."
To help unemployed individuals interested in gaining access to construction careers, SLATE operates the Construction Intake Center at its office on Market Street, and employs a full-time Construction Intake Liaison, Armand Paulet, who maintains strong relationships with construction contractors and labor unions, and offers young men and women career options normally unavailable to them.
For more information about the PARIC – SLATE partnership, please contact Earline Bell, Project Coordinator at SLATE, by email, at ebell@stlworks.com. To learn more about SLATE's Construction Intake Center, please visit our website, at stlworks.com.
Department:


St. Louis Agency on Training and Employment