This article is 5 years old. It was published on June 3, 2016.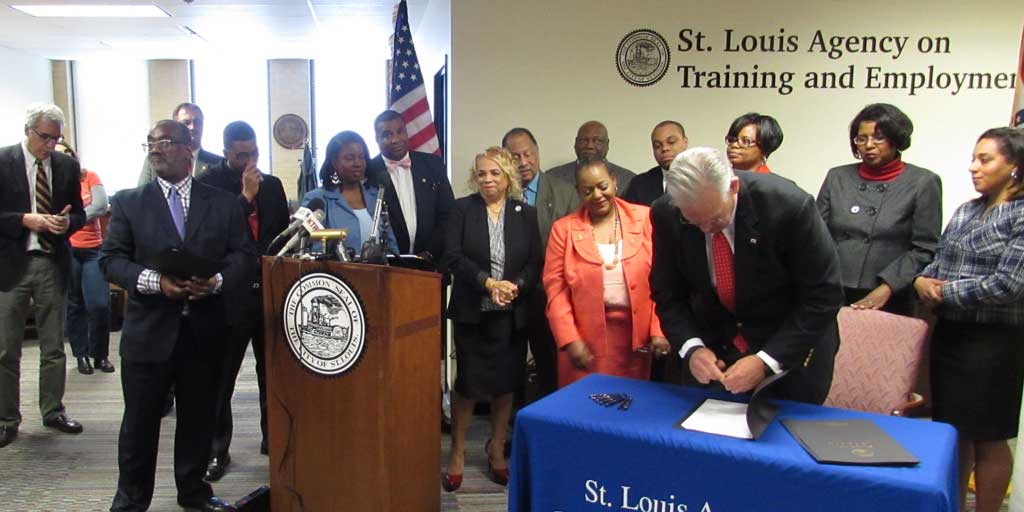 SLATE was honored to receive Missouri Governor Jay Nixon as our special guest on April 11, 2016. At a special ceremony within our American Job Center, the Governor signed Executive Order 16-04, which directs state departments and agencies to remove questions relating to criminal history from initial employment applications. Missouri has now 'banned the box.'
At this SLATE-hosted event, Governor Nixon stated, "Gainful employment is a key factor in promoting rehabilitation and the successful reintegration of former offenders... by giving these Missourians a fair chance to get a job and support their families, 'ban the box' policies can help to break the cycle of crime and incarceration."
SLATE Executive Director Michael K. Holmes shared similar sentiments as he introduced the Governor. "We can only thrive if we are willing to extend to everyone who is willing to work hard, who has paid their debt to society, a second chance."
The Missouri Department of Corrections estimates that in 2015, the unemployment rate for Missourians on parole was 44 percent. To date, 21 states have enacted similar policies, along with a number of major corporations. City of St. Louis Mayor Francis Slay banned the box in October 2014.
Department:


St. Louis Agency on Training and Employment