This article is 7 years old. It was published on August 3, 2015.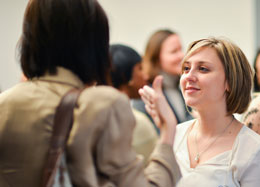 Accommodation for Success will be held on August 11, 2015, from 12:30 to 4:30 p.m. at the St. Louis Community College at Forest Park's Student Center Café. This seminar will call special attention to ongoing challenges that persons with disabilities face in the job market. The employment rate for those with disabilities remains extremely low at 20 percent, compared to 69 percent of people without disabilities. A collaboration of Workforce Development Regions are working with area employers and other stakeholders to redress this imbalance.
This event will bring together more than 125 human resources officers from approximately 70 businesses and 30 agencies that provide specialized workplace services for persons with disabilities. Ameren, Anthem, Commerce Bank, Express Scripts, Mercy Health, Monsanto, Paraquad, St. Louis Community College and Washington University are among those participating.
The event will feature several break-out sessions, with employer-focused topics including Recruiting Etiquette, Sourcing To Find Talent, Accommodations & Assistive Technology, and Tax Credits. There is no charge for this event. Businesses interested in participating are asked to register online at https://www.eventbrite.com/e/acoommodation-for-success-tickets-16810109490.
Mayor Francis G. Slay supports the effort, stating, "The business community has made great strides in integrating persons with disabilities into the workplace. However, every place of business can benefit substantially from the advice and resources that will be available at this event."
For additional information on Accommodation for Success, interested parties can contact Jim Sahaida at jsahaida@stlworks.com.
Representatives from the following Workforce Investment Areas have worked closely with a number of partners to create this major event: Jefferson-Franklin County, St. Charles County, St. Louis City, and St. Louis County. Other partners include the Missouri Department of Mental Health, Vocational Rehabilitation Services, and part of the Missouri Department of Social Services. This year marks the 25th anniversary of the passage of the landmark Americans with Disabilities Act (ADA).
Department:


St. Louis Agency on Training and Employment