This article is 4 years old. It was published on November 14, 2018.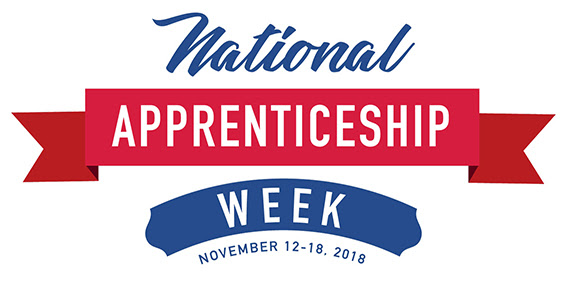 November 14, 2018, ST. LOUIS, MO – The St. Louis Agency on Training and Employment (SLATE) Missouri Job Center, in partnership with the U.S. Department of Labor (DOL), invites the public and our partners and stakeholders to commemorate National Apprenticeship Week (November 13 - 16, 2018). This weeklong celebration will emphasize the importance and benefits of apprenticeship career pathways while highlighting apprenticeship programs overseen by SLATE.
National Apprenticeship Week was initiated by President Obama in 2015 to expand and support apprenticeships through the ApprenticeshipUSA initiative. According to DOL, since President Obama's 2014 State of the Union address when he challenged employers and educators to double the number of apprenticeships by 2019, the U.S. has had the largest growth in apprenticeships in nearly a decade. More than 400,000 apprentices nationwide are currently working with more than 150,000 employers.
The apprenticeship model works across thousands of occupations, including construction, manufacturing, healthcare, information technology (IT), retail and more. At their core, apprenticeships offer flexible innovative training solutions through an 'earn and learn' model which combines immediate employment with technical instruction and on-the-job learning. Simultaneously, for employers who establish apprenticeships within their organizations, such training offers continuous business growth, a more diverse workforce, heightened productivity and reduced turnover.
Community awareness and increased participation in apprenticeships will allow many St. Louisans to better quality of their lives through a satisfying career path.
Nicole Dotson, Compete Midwest /Urban Strategies Manager at SLATE stated: "SLATE has always been known for its training programs designed to connect participants to jobs; however, only registered apprenticeships offer flexibility and a built-in mandate for apprentices to be gainfully employed and earn livable wages after completion of their training."
In 2014, SLATE developed Building Union Diversity (BUD), a pre-apprenticeship program that helps young men and women explore different construction trades, in cooperation with local organized labor and the Metropolitan St. Louis Sewer District (MSD). SLATE also helps MOKAN open doors of opportunity for minority populations and women interested in construction careers.
In 2015, after joining the Compete Midwest American Apprenticeship Initiative Grant Program, SLATE created a number of registered apprenticeships for job seekers to enter various high-growth industries and solid careers, outside construction.
Besides BUD and MOKAN, SLATE's current formal apprenticeship partnerships include Ranken Technical College (Advanced Manufacturing and Automotive Technician), LUME Institute (Early Childhood Education), New Horizon (IT), and Challenge Unlimited (Custodian/Janitor). In addition, SLATE continues to develop new apprenticeship partnerships.
SLATE's planned activities for National Apprenticeship Week will take place Tuesday - Friday, November 13 - 16, 2018, 10 a.m. – 1 p.m., with an opportunity to:
Visit with SLATE's Apprenticeships staff and Program providers to learn about apprenticeships that currently exist at Ranken, MOKAN, LUME, New Horizon, BUD and Challenge Unlimited.
 
Meet with High School seniors from Vashon, Sumner, Roosevelt, Northwest Academy, Lift for Life, Confluence Academy and Project Search to gain insight about future generations' plans on training and education, work and careers, and other ideas for life success.
"I am very excited to introduce the citizens of St. Louis with a variety of innovative training options available today at Job Centers across the U.S. Not everyone will be building a path to prosperity through a college degree; some might do better with shorter classroom instructions. DOL offers various solutions, and SLATE has an insight about all of them," said Dr. Alice M. Prince, SLATE Executive Director.
All events are free and open to the general public and business community. To find out more about the events, please email requests to Chaille Jackson, Workshops Coordinator, at cjackson@stlworks.com. More information about SLATE can be found on our website, www.stlworks.com. Please note that events are subject to change.
Department:


St. Louis Agency on Training and Employment