SLATE Executive Director Elected to U.S. Conference of Mayors Workforce Development Council (WDC) 2018 Board of Trustees
Dr. Prince will be representing St. Louis' job seekers and businesses as our nation continues to focus on workforce issues common to urban communities
March 12, 2018
|
2 min reading time
This article is 4 years old. It was published on March 12, 2018.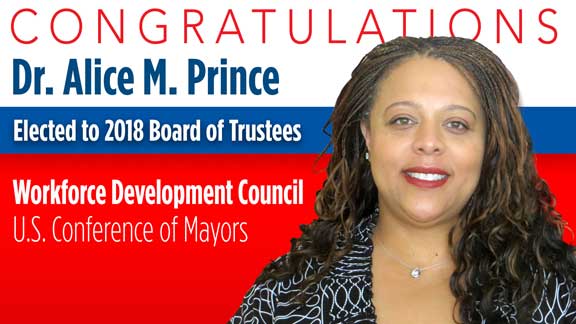 Dr. Alice M. Prince, Executive Director of the St. Louis Agency on Training and Employment (SLATE) Missouri Job Center was elected to the 2018 Board of Trustees for a one-year term during the 86th Winter Meeting of the United States Conference of Mayors (USCM) Workforce Development Council (WDC) in Washington D.C.
Three officers and 15 trustees are elected by the WDC membership annually. As a representative of the City of St. Louis Workforce Development Board (WDB), Dr. Prince will join the Council's continued efforts to ensure focus on workforce development activities in cities across the nation and supporting and informing the work of the USCM Committee on Jobs, Education and Workforce.
The WDC plays an active role in the workforce development efforts of urban areas, strengthening the ability of cities to meet the needs of their citizens, particularly economically disadvantaged individuals such as those with serious skill deficiencies, dislocated workers, and others with marked barriers to employment, including veterans, people with disabilities, and opportunity youth. 
This is Dr. Prince's first election to the WDC Board of Trustees since her appointment as Executive Director of SLATE in August of 2017. 
"I am deeply honored to represent St. Louis' job seekers and businesses on a national scale, and to play a role in developing programs and practices that address workforce development issues common to urban areas across America," said Dr. Prince. "In my capacity as a Trustee, I look forward to helping our nation's most innovative and dedicated workforce development leaders to support and promote initiatives, programs, and best practices that change the lives of our citizens and bring stability and growth to the region."
Please visit stlworks.com to learn more about current and upcoming SLATE educational, training, and employment programs available to the St. Louis metropolitan community.
Department:


St. Louis Agency on Training and Employment