This article is 7 years old. It was published on November 12, 2015.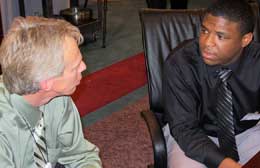 The St. Louis Agency on Training and Employment (SLATE) Missouri Job Center, in partnership with Adams &Associates, Inc., a management company that operates the St. Louis Job Corps Center, announces a Job Fair designed to further help the agency to fill 150 positions.
The Job Fair will take place on Friday, November 13, 2015, from 10 a.m. to 3 p.m., at SLATE, 1520 Market St, 3rd Floor, St. Louis, MO 63103.
Minimum experience required for some positions, which include finance, security, residential, recreation, academic and vocational instructors, counselors, recruiters and placement personnel among others.
Prior to attending the event, participants are required to register with SLATE. To register, visit SLATE Monday to Friday, 8:00 a.m. to 3:30 p.m., or on Wednesday from 9:00 a.m. to 3:30 p.m. Participants can also register onsite from 8:00 a.m. to 10:00 a.m. on the day of the event. When attending the event, participants need to bring two forms of I.D. and an updated resume. Professional dress code is required.
Department:


St. Louis Agency on Training and Employment