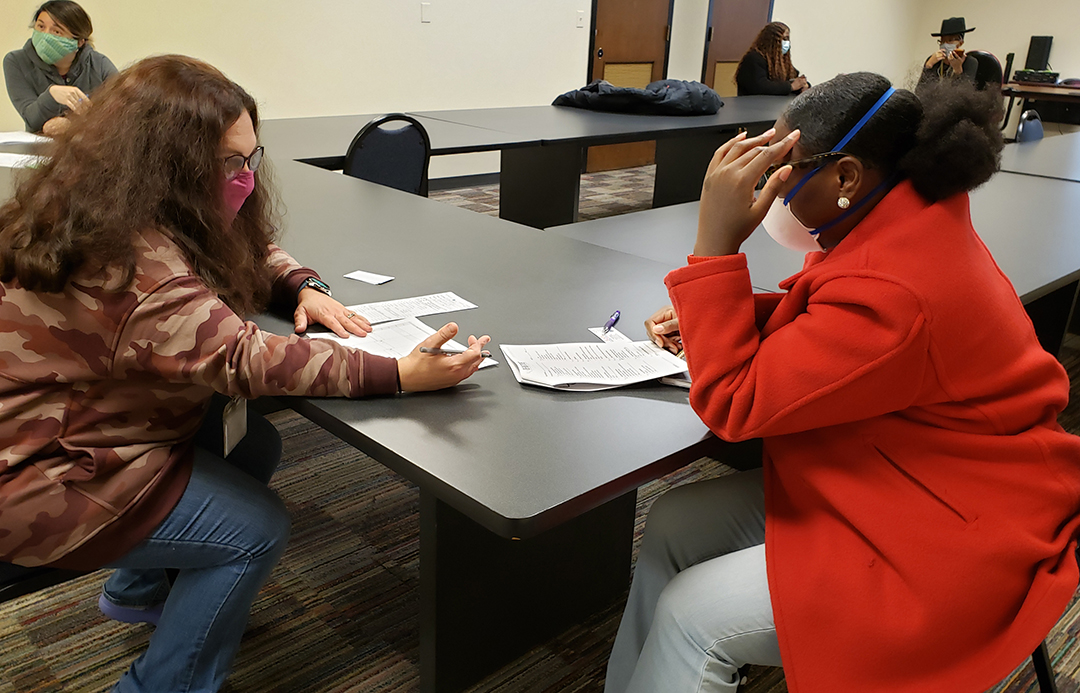 The St. Louis Agency on Training and Employment (SLATE) recognizes and deeply understands the unprecedented challenges the COVID-19 global pandemic has created for workers and their families in our community. Businesses across a variety of sectors have struggled these last several months to successfully operate under enormously difficult economic conditions and public health restrictions. As a result, thousands of our friends and neighbors have found themselves suddenly displaced from the workforce and in need of new employment through no fault of their own. 
SLATE also knows that COVID-19 has disproportionately impacted persons of color and individuals living in low-income communities, compounding existing barriers that stand between them and access to employment, job skills, and other services. Even our youth have remained extremely vulnerable as they have tried to navigate these difficult times. 
But the City of St. Louis is proud of the way in which the team at SLATE quickly adjusted and responded to these realities of the pandemic. Under unprecedented circumstances, the agency continues to fulfill its mission of connecting job seekers, regardless of race, age, ability, socioeconomic status, employment history, zip code, or career interest, to training programs and employment opportunities while helping employers diversify their workforce and positioning youth with skills and focus for the future.
"It's been a busy year for all of us here at SLATE as we've worked tirelessly to help those impacted by the pandemic. But in a way, we're uniquely positioned to meet this moment because our shared purpose and vision is to provide people with the tools and resources they need to re-enter the workforce," said Howard Hayes, Executive Director of SLATE.
Since COVID-19 first hit St. Louis in March 2020, SLATE team members have utilized a new call center to connect with more than 12,000 people regarding employment and skills training, and provided assistance to those filling out online applications, crafting a resume, and conducting job searches. Nearly 700 people have also requested SLATE orientations about our programs and services, which have transitioned to mostly virtual platforms to protect the health and safety of our clients, our staff, and the public.
Additionally, SLATE has doubled its efforts in partnering with local institutions to offer an expansive variety of career fairs, educational training, and support to St. Louisans, from single mothers, to teenagers, to people with learning disabilities. We're proud that we've been able to help previously unemployed individuals find work in healthcare, construction, IT, and many other fields. As Missouri's labor market continues to rebound and show signs of improvement, we believe that our efforts locally have helped keep the City's unemployment rate lower than the state's. Though we must acknowledge there are still many workforce-related challenges that lie ahead, SLATE stands prepared to build on the successes of our pandemic response with the singular mission of putting more St. Louisans back to work.
"We have mentors and assistance to get you on the right track. We want to provide you with the support, resources, job leads, case management, and job development you need to be connected directly to employment, as well as training," said Cassandra Williams, Deputy Executive Director with SLATE. 
If you'd like to learn more about how SLATE can help you, don't hesitate to call us at (314) 589-8000.
Article published in the St. Louis American newspaper on January 13, 2021. 
Department:


St. Louis Agency on Training and Employment