This article is 5 years old. It was published on October 5, 2016.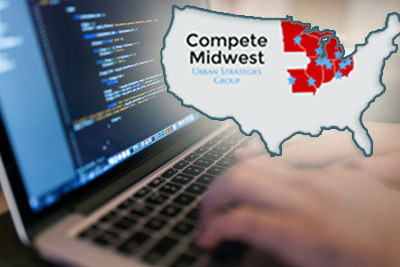 ST. LOUIS –In June, the U.S. Department of Labor announced the organizations receiving funds under the TechHire grant initiative. Among them was the Compete Midwest H-1B TechHire Partnership consisting of three TechHire communities in the Midwest —Milwaukee, WI, St. Louis, MO and Cincinnati, OH.
Employ Milwaukee Inc., SLATE and the Cincinnati WDB formed a coalition to help connect participants to good jobs, such as Web Developers and Database Administrators, in high-growth sectors including IT and healthcare. Over the next 4 years, the three regions will serve 400 young adults, including 100 low-wage and long-term unemployed jobseekers, while sharing best practices to tackle common challenges.
Earl Buford, President and CEO of Employ Milwaukee, has stated, "There is a need for workers trained in technical occupations across industries. We are looking forward to working with our partners to put individuals, especially our young people, on a career pathway in tech fields."
The TechHire project follows and builds upon an earlier collaboration between Milwaukee, St. Louis and Detroit to secure grant funds through the DOL American Apprenticeship Initiative (AAI). SLATE Executive Director Michael K. Holmes states, "It makes sense for Midwestern urban areas with similar issues and populations to work together. We will share effective workforce development tactics, seek out each other's advice, and continue to look for additional partnership opportunities."
Department:


St. Louis Agency on Training and Employment