City of St. Louis Celebrates 'Building Union Diversity' Graduating Class; Launches Website to Connect Jobseekers to Construction Jobs
BUD program strives to increase pool of well-trained and motivated union apprentices, especially among women and minority populations.
June 1, 2015
|
2 min reading time
This article is 7 years old. It was published on June 1, 2015.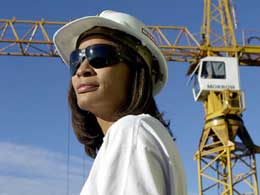 ST. LOUIS –NAACP President Aldophus Pruitt and local labor leader Jeff Aboussiewill join Mayor Francis Slay and SLATE Executive Director Michael Holmes on Monday, June 1, 2015, at 2:00 p.m. to recognize new graduates of the Building Union Diversity (BUD) program in the City of St. Louis and to launch a new website to connect jobseekers to construction jobs and track capacity and interest.
The BUD program is the first of its kind in the nation and has been recognized by the White House as a best practice.Today's graduates have completed a rigorous, seven-week pre-apprenticeship training program, during which they learned the skills needed to become a union apprentice.Each graduate is guaranteed an interview with one of seven companies for full-time union jobs. BUD is funded through St. Louis Agency on Training and Employment (SLATE), the Department of Labor, and other community partners.
Partnering with the unions is part of Mayor Slay's comprehensive plan dedicated to ensuring that everyone in the City has a fair opportunity to get a job.Today's graduation comes on the heels of the City's announcement last week of a new Contractor Loan Fund to provide much-needed capital to women and minority-owned businesses.
"We are putting nearly 2,000 young adults to work through our Stl Youth Jobs program;we are connecting 3,000 people to permanent jobs through our Bridge Program, which is aimed at reducing gaps in poverty rates and unemployment;and, we have partnered with community-based non-profits, like Better Family Life to identify and engage with at-risk youth," Mayor Slay said."But increasing job opportunities at the margins is not enough.We need workers –lots of workers –who have the skills and education they need to do good work for their employer.The BUD program is helping to increase our pool of well-trained and motivated union apprentices."
"We're proving that this program works," Jeff Aboussie said."Eight of our last nine graduates are employed fulltime.And, with the construction work season now in full swing, I fully anticipate that our new graduates will have an even greater opportunity to secure gainful employment to help themselves and their families."
Now is a good time to become a construction apprentice.The Bureau of Labor Statistics predicts that the construction industry will need many more workers over the next decade as the City anticipates more than $10 billion in construction projects to come online.
Such projects will be available on a new website, STLBuilds.com, which was developed in partnership with SLATE, St. Louis Building and Construction Trades Council, the NAACP, and Kiosite, LLC.The website will serve as a database where people interested in construction jobs in the metropolitan area can register, gain construction information on projects, learn about and get connected to training opportunities, and get linked to individuals and businesses looking to hire qualified and experienced candidates.
WHO:
Mayor Francis Slay
Michael Holmes, Executive Director, SLATE
Jeff Aboussie, Executive-Secretary - Building Trades
Adolphus M. Pruitt, II, President, NAACP
BUD program graduates
WHAT:
The BUD program brings together a comprehensive network of participating joint labor-management construction skills training providers, (SLATE), the St. Louis Building and Construction Trades Council, Carpenters District Council, Laborers District Council, and the Missouri Division of Workforce Development (DWD). The second class of graduates will be recognized today.
The City will also unveil STLBuild.com, a website designed to link interested jobseekers to opportunities in the construction field and provide a platform to measure and track capacity of interested and qualified candidates. The STLBuild website is available to anyone.
WHEN: Monday, June 1, 2015, at 
WHERE: SLATE, 1520 Market St., First Floor, St. Louis, M 63103
SLATE staff will escort you to the press conference.
Department:


St. Louis Agency on Training and Employment