This article is 6 years old. It was published on March 22, 2016.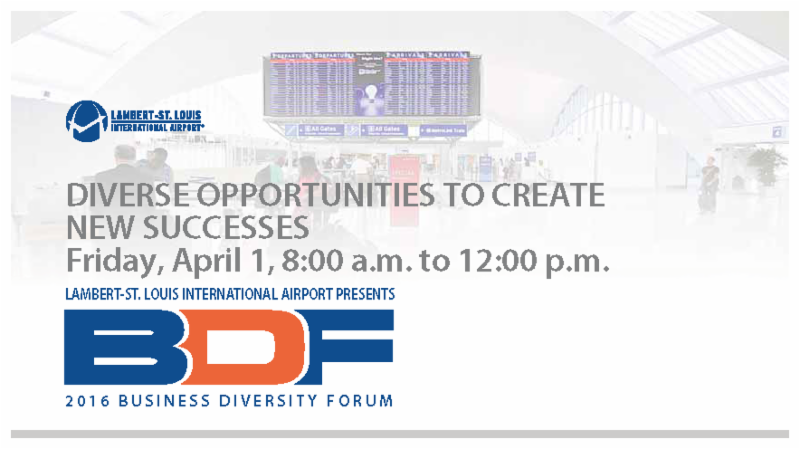 Lambert-St. Louis International Airport will host the 2016 Business Diversity Forum: Diverse Opportunities to Create New Successes on Friday April 1, 2016. The event is free, and will be held from 8:00 a.m. – 12:00 p.m.in Terminal 1 Concourse B.
Airport Director Rhonda Hamm-Niebruegge will speak on Lambert's 5-year strategic plan, current progress, and renewed focus on passenger growth, financial stability, economic development, and customer satisfaction. A highlight of the event is a dynamic presentation by renowned keynote speaker, Ravi Norman, CEO of THOR Construction, which is among the largest African American Companies in the nation. Norman will discuss his "SIT-EAT-GROW" model for growing small businesses and minority entrepreneurship.
The event is designed to showcase new and ongoing development opportunities at Lambert Airport, and to breakdown the nuances often associated with doing business in an airport environment. Additionally, the forum creates an educational and networking opportunity for M/W/D/ACDBE's to connect with prime contractors and airport decision makers. The forum will feature roundtable discussions on how to do business at Lambert Airport, upcoming contract opportunities, understanding a joint venture and how it can help grow your company, business-to-business networking, navigating the certification process, bonding requirements, and other business development topics. The schedule also includes networking breakfast, awards presentation, and exhibit hall.
Businesses connected with professional services such as accounting, HR management, legal, PR/marketing, as well as personnel staffing are encouraged to attend.
Lambert hosted its first-ever Business Diversity Forum last spring. It was attended by over 400 people, and highlighted the requirements for federal and local certification for minority and women-owned businesses.
Registration is required by March 29, and can be made by calling 314-426-6111 or online.
##