This article is 5 years old. It was published on April 17, 2017.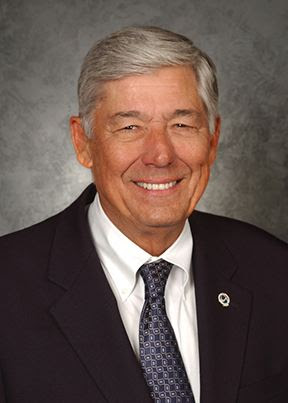 St. Louis -- St. Louis Lambert International Airport (STL) is sad to report the passing of St. Louis Airport Commissioner and former Airport Director Richard Hrabko, who died at his home early Friday. Hrabko was the Chief Executive of Spirit of St. Louis Airport from 1971 to 2007, before being appointed the Director of St. Louis Lambert International for the City of St. Louis. He served more than two years in that role but continued on as a commissioner on the St. Louis Airport Commission even through his recent battle with cancer.
"This is a great loss for this region and the aviation community," said St. Louis City Mayor Francis Slay. "Dick Hrabko truly set the foundation for this Airport's turnaround helping weather the impact of American Airlines' de-hubbing of its operations, pushing forward a major airport renovation plan and re-organizing the leadership structure of the airport."
"He was so widely respected across the state and throughout aviation," said Airport Director Rhonda Hamm-Niebruegge, who succeeded Hrabko in 2010. "He really brought a private-sector, business oriented vision to the Airport by shifting a focus to the airport's ability to leverage non-aeronautical development to help the airport sustain better financial stability."
While American Airlines announced more drastic airline service cuts in 2009, Hrabko helped the STL immediately renew service to some key markets on other airlines. He also pushed forward a $70 million renovation plan that modernized Terminal 1 and its concourses and was completed in 2014. As a Commissioner representing St. Charles County on the 17-member St. Louis Airport Commission, he offered tremendous expertise and industry guidance as the Airport has grown flights, improved terminal facilities, improved passenger amenities, and has created a new focus on cargo and other non-aeronautical projects.
Dick recently received the Lifetime Achievement Award from the Missouri Airport Managers Association for his dedication, leadership and never ending promotion and support of aviation.
Dick is survived by his loving wife Cindy, three grown children, five grandchildren and one great grandchild. Funeral arrangements are pending. 
Contact
St. Louis Lambert International Airport (STL) is the primary commercial airport for eastern Missouri and southern Illinois serving 14 million passengers annually. STL is an Enterprise Fund Department of the City of St. Louis. It is wholly supported by airport user charges. No general fund revenues are used for the operation, administration, promotion or maintenance of airport facilities. For more information on flights and services at St. Louis Lambert International Airport, log ontowww.flystl.com. 
Department:


St. Louis Lambert International Airport


Topic:


Employees