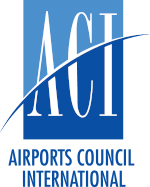 Airports Council International (ACI) has accredited St. Louis Lambert International Airport (STL) for its efforts to provide a safe airport experience. This endorsement comes after ACI assessed STL's compliance with new health measures and procedures in light of the current COVID-19 pandemic. These standards are ACI's own Aviation Business Restart and Recovery guidelines and recommendations made by the International Civil Aviation Organization's Recovery Task Force.
The requirements to meet ACI's endorsement were multi-faceted. It required STL to show compliance in areas that included, but were not limited to: cleaning and disinfection of specific areas, physical distancing, passenger protection (involving such items as masks and hand sanitizer stations), staff protection, passenger communications and required health screening for employees.
ACI stresses that the Airport Health Accreditation Program reaffirms a commitment to protecting passengers and airport workers in this time of COVID-19. According to ACI, "This accreditation program is designed to help reassure the traveling public that airport facilities remain safe and that precautions are being taken to reduce any risk to their health."
"We believe this accreditation shows STL is dedicated to doing the utmost to keep our passengers safe during this period of COVID-19," said STL Airport Director Rhonda Hamm-Niebruegge. "Each day is a new challenge in keeping our own standards at their highest to ensure our passengers' health and safety."        
ACI is a global trade group working with airports and commercial aviation businesses throughout the world. The organization is headquartered in Montreal, Quebec, Canada and has offices in Washington, D.C.
(Map showing all ACI member airports accredited by ACI's Health Program.)
Department:


St. Louis Lambert International Airport