This article is 5 years old. It was published on April 19, 2017.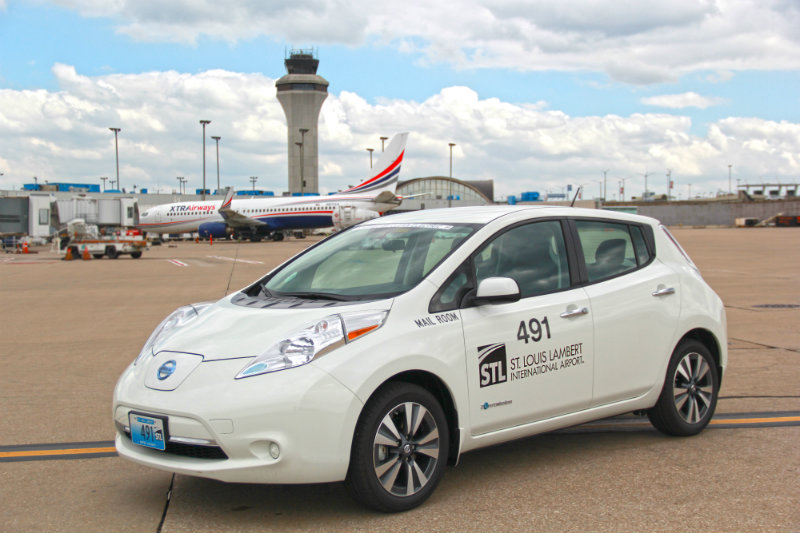 ST. LOUIS -- St. Louis Lambert International Airport (STL) expands its alternative fuel fleet with the purchase of seven new electric Nissan Leaf vehicles, one of which will be on display at the St. Louis Earth Day Festival in Forest Park this weekend,April 22-23. The Airport will have a number of alternative fuel vehicles at its Festival booth, giving visitors the opportunity to get up close and ask questions. 
"It makes sustainability tangible," said Airport Director Rhonda Hamm-Niebruegge. "People see these huge vehicles like runway snow plows, and then what appear to be typical cars, and yet they all run on clean energy. It's an eye-opening moment, and they're only seeing a handful of our hundreds of vehicles."
In late 2016, STL was honored with the Missouri Governor's Leader in Energy Award for its region-leading sustainability and environmental initiatives. Locally, the City of St. Louis' Sustainability Action Agenda set a goal for the Airport's fleet to be 85 percent alternative fuel vehicles by 2018. With the purchase of the Nissan Leafs, STL has already reached nearly 80 percent. STL's green fleet includes 23 electric vehicles, 80 Compressed Natural Gas (CNG) powered vehicles, and over 200 biodesel powered vehicles.
"As fossil fuel vehicles need replacing, we will continue aggressively pursuing affordable options with the lowest cost possible," said Ron Stella, Airport Deputy Director of Operations and Maintenance. Ameren Missouri's current $10,000 instant rebate offer on a Nissan Leaf purchase "made them an extremely affordable alternative fuel passenger vehicle." In total, the rebate lowered the Airport's up-front cost by $70,000.
The all-electric Leafs will serve as utility vehicles for a variety of Airport departments, replacing older, less efficient vehicles that burned traditional fossil fuel gasoline. Their bright white paint color was chosen for a neutral aesthetic and increased visibility while driving on the airfield.  The vehicles have also been outfitted with specialty electronics required for their specific Airport usage.
The Airport's groundbreaking use of alternative fuels, especially biodiesel, is getting national attention. The Discovery Channel is featuring the Airport in a documentary set to air this fall. 
Taking a comprehensive approach to sustainability, the Airport has additionally set ambitious initiatives to significantly reduce overall energy usage. In 2015, STL was awarded nearly half a million dollars from Ameren Missouri for completing 31 energy efficiency projects between 2010-2015 as part of their BizSavers® Program. The most notable change was replacing tens of thousands of light bulbs with LEDs, which are brighter, modernize the airport's appearance, use 50% less energy than the fluorescent bulbs they replaced, and have double the lifespan. Learn more about this endeavor. 
St. Louis Lambert International Airport is committed to operating in a manner that serves its passengers, employees, tenants, contractors, and surrounding community. A primary component of this commitment is the Airport's desire to achieve successful environmental performance which is communicated through the Airport's environmental policy. The Airport has also adopted a sustainability policy to ensure the integrity of its economic viability, operational efficiency, natural resource conservation and social responsibility. Read both policy statements. 
---
Contact: Jeff Lea
Public Relations Manager
314-426-8125
 office
314-795-2235
 cell
jrlea@flystl.com
St. Louis Lambert International Airport (STL) is the primary commercial airport for eastern Missouri and southern Illinois serving 14 million passengers annually. STL is an Enterprise Fund Department of the City of St. Louis. It is wholly supported by airport user charges. No general fund revenues are used for the operation, administration, promotion or maintenance of airport facilities. For more information on flights and services at St. Louis Lambert International Airport, log onto www.flystl.com.