This article is 3 years old. It was published on November 22, 2019.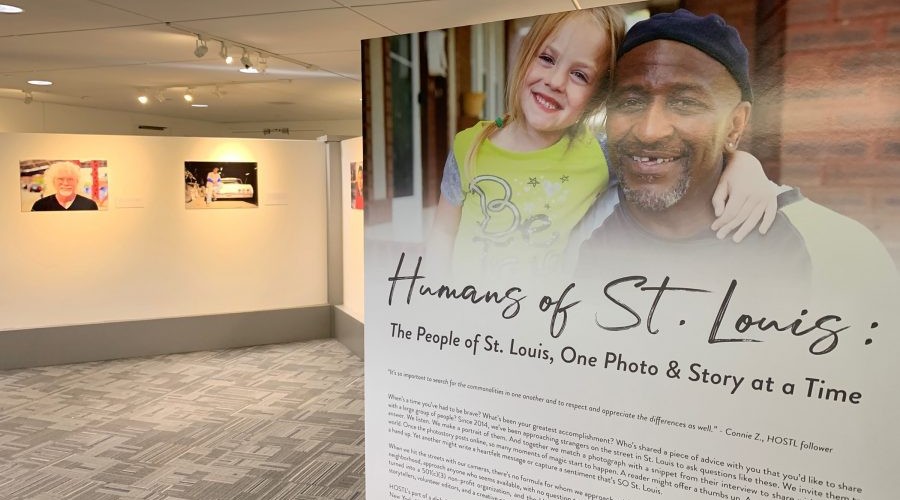 A local storytelling campaign that shares stories from voices across the region has expanded its showcase to St. Louis Lambert International Airport (STL) with a new exhibit, Humans of St. Louis: The People of St. Louis, One Photo & Story at a Time.   
Humans of St. Louis (HOSTL) has curated more than 2,400 stories online with a focus on fostering the arts, supporting cultural diversity, and sparking positive community engagements. For STL's exhibition, the 22 featured images and signature stories were gathered through personal interviews by photographers and storytellers Lindy Drew, Colleen O'Connell Smyth, and Alana Marie. The exhibition runs through May 18, 2019 in the Lambert Gallery, which is located in the bag claim of Terminal 1. The exhibition is part of the Lambert Art and Culture Program's Temporary Exhibition Program which is supported by the Regional Arts Commission of St. Louis.
A team of eight people who call St. Louis home, curated the exhibit from five years' worth of stories. After individually selecting their favorites, they gathered together to decide which photo stories would best represent a wide variety of identities and anecdotes, taking into consideration the airport's location and audience.
"The stories we captured touch on topics from education, current events, and small business, to relationships, family, gender identity, or simply, what it means to do your best," said Lindy Drew, HOSTL Co-founder and Lead Storyteller. "All the while, the team kept in mind the common thread that weaves the entire body of HOSTL's work together – humanity. Whether you're visiting or you call St. Louis home, the hope for this show is that the humans featured provide a chance to see the rich history and humanity we all have within us."
Humans of St. Louis are also exhibiting at the Busch Student Center at St. Louis University and the Danforth University Center at Washington University in St. Louis. 
HOSTL was chosen to exhibit by the Airport's seven-member Airport Art Advisory Committee.  Current members are Lisa Cakmak, Associate Curator of Ancient Art at Saint Louis Art Museum; Ellen Gale, Executive Director Clayton Chamber of Commerce; Shelley Hagen, Corporate Art Resources at Wells Fargo; Leslie Markle, Curator of Public Art, Mildred Lane Kemper Art Museum; Kiku Obata, Founding Principal of Kiku Obata & Co.; Roseann Weiss, consultant with ART+; and design artist and illustrator Carlos Zamora. 
The Lambert Art and Culture Program builds upon the culturally rich legacy of St. Louis Lambert International Airport. The mission is to elevate the visitor experience and uplift regional pride through the presentation of artwork created by local, national, and international artists. Currently, there are nearly 30 works of art or collections of art (temporary, permanent or on-loan) on view at the Airport. For more information, visit www.artoftravelstl.com.