DT2 (the Downtown Dutchtown Business Association) will be hosting its second annual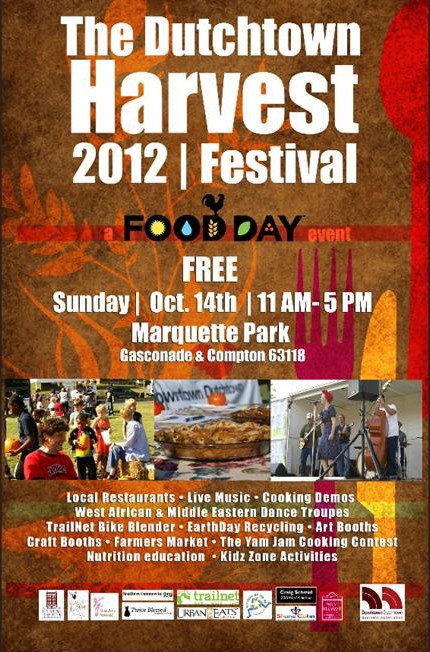 Dutchtown Harvest Festival. There will be a farmers market, cooking demonstrations, Yam Jam pie baking contest, live music (Miss Jubilee and the Humdingers and Jennifer Roques), STL Hoop Club hoop dance demonstration, arts booths, crafts booths, business and organization booths, face painting, adult and child activities (pumpkin painting, potato sack race, bobbing for apples).
The Dutchtown Harvest Festival is part of the Food Day effort to provide access and information about healthy food choices that are available in the neighborhood.See: http://www.stlmag.com/Blogs/Look-Listen/October-2012/Celebrate-Food-Day-at-the-Dutchtown-Harvest-Festival/ Come experience our beautiful weather (hopefully) and hospitality, and spend an afternoon in the beautiful Dutchtown Neighborhood within the 20th Ward.
Department:


Board of Aldermen


Topic: