On Friday, December 9, 2022 the Missouri Housing Development Commission (MHDC) approved awards worth over $70 million to six affordable housing developments in the City of St. Louis. Projects include: Preservation Square Phase IV in Carr Square, the Independence Center in the Central West End, AmberStones in Old North, Crossroads in Bevo, Northside Heights in Wells-Goodfellow, and the King Louis Square in Peabody-Darst-Webbe. 
"The City of St. Louis has been blessed with an abundance of shovel-ready affordable housing proposals this year, and we are pleased to see developers responding to the extraordinary need," said Mayor Tishaura O. Jones. "More than 30,000 St. Louis households are cost-burdened by housing, and the City is working to ease that burden."
"These projects collectively represent over $120 million in development," said CDA Director Nahuel Fefer. "Which will fund the production and preservation of 478 units throughout the city. We are committed to working with today's recipients to ensure the successful completion of projects, and look forward to partnering with those which were not selected for funding to strengthen their proposals."
City of St. Louis 2022 LIHTC Recipients:
AmberStones at Old North (Formerly Murphy Blair Apartments)
Development Team: Efficacy Consulting & Development; The Acquisition Group (TAG); Double Diamond Construction; Wallace Architects;
Total Units: 68 (68 Affordable Units)
Total Development Cost: $14,600,000
Project Description: AmberStones is a scattered site development in Old North St. Louis consisting of 15 buildings and a total of 68 units. These units include 17 four and five bedroom units, and 10 units set aside for unhoused individuals and victims of domestic violence. 
 Crossroads Senior Living at Bevo Mill
Development Team: Lutheran Senior Services; Tower Grove CDC; EM Harris; Rosemann & Associates P.C. 
Total Units: 64 (55 Affordable Units)
Total Development Cost: $17,776,000
Project Description:  Crossroads will provide 80 new universally designed apartments for seniors. The Supportive Services Plan includes van transportation for appointments and group day trips, health kiosk and nurse consultants, group exercise, and other enrichment activities.
Independence Center Senior Apartments
Development Team: Independence Center; Grice Group Architects;  Altman-Charter Construction
Total Units: 38 (34 Affordable Units)
Total Development Cost: $10,605,934
Project Description: Permanent supportive housing with wrap around services for residents with disabilities who face chronic homelessness and mental and physical health issues. 
King Louis Square
Development Team: DeSales KLS Group LLC; Roanoke Construction Inc.; 
Total Units: 152 (106 Affordable Units)
Total Development Cost: $36,200,000
Project Description: Located in the Peabody-Darst-Webbe neighborhood of St. Louis City, King Louis Square was originally built in 2000 and offers a mix of 300 one to four-bedroom units. The two phase redevelopment will change the rents mix to add 81 affordable units, which will continue to be managed by Fox Grove Management. 
Northside Heights
Development Team: Northside Community Housing, Inc.; Rise Community Development; HT Design LLC (MBE); E.M. Harris Construction; St. Patrick Center;
Total Units: 65 (65 Affordable Units)
Total Development Cost: $14,034,673
Project Description: Northside Heights is a scattered site development in the Ville, Greater Ville and Wells-Goodfellow consisting of 14 buildings, 65 residential units and 7 commercial units. The project includes a comprehensive supportive services program for residents, 10 units set aside for unhoused persons or people at risk of homelessness, and a social service reserve fund of $250,000.
Preservation Square Phase IV
Development Team: McCormack Baron Salazar, Inc; Urban Strategies Inc.; Rosemann & Associates; Altman Charter Co.;
Total Units: 97 (49 Affordable Units)
Total Development Cost: $27,812,1000
Project Description:  Preservation Square is located just north of downtown St. Louis, directly adjacent to the former Pruitt-Igoe site. Decades after its demolition, this geography still exhibits the highest concentration of public and affordable housing in the city, as well as the lowest household income and life expectancy. The incorporation of market rate units was included in the City's Choice Neighborhood implementation plan, which grew out of over 200 meetings with the community, and is designed to counteract the negative effects of concentrated poverty.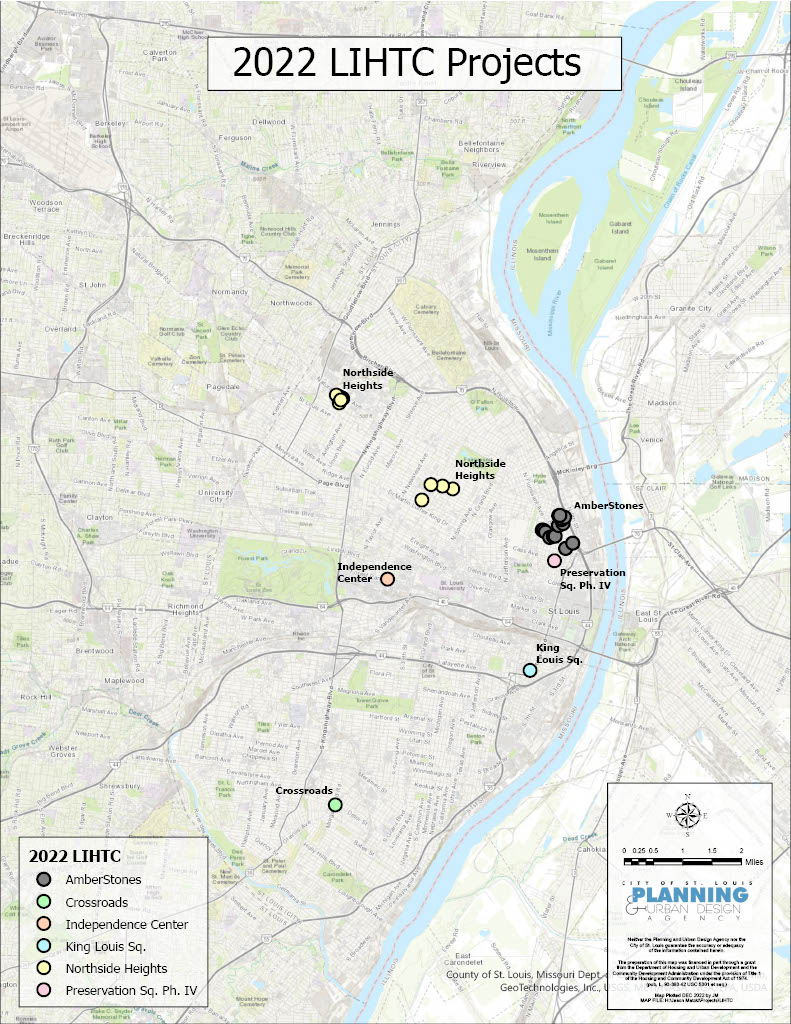 Department:


Community Development Administration
Office of the Mayor