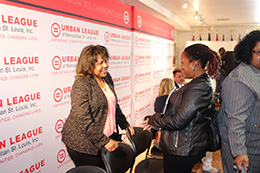 St. Louis Comptroller Darlene Green and Reliance Bank's Allan D. Ivie, IV, President of Community & Corporate Banking, will host a discussion for small business owners in St. Louis as part of Small Business Week. The session will be held at the Urban League of Metropolitan St. Louis, 3701 Grandel Square, on May 2 at from 8:30 a.m. to 10:00 a.m.
At 'Coffee and Credit', Mr. Ivie of Reliance Bank will offer advice on how small businesses can best prepare for working with lenders and discuss products and services offered by Reliance Bank. Attendees will learn from Comptroller Green about programs and assistance that the City of St. Louis offers to small businesses.
"Healthy small businesses are an important economic engine for the City of St. Louis," said Comptroller Green. "Small businesses are the foundation of our employment, and they drive innovation forward through their creativity."
Admission to the discussion is free. Interested small business owners should RSVP for the event by emailing cevans@reliancebankstl.com.
The Honorable Darlene Green, comptroller of the City of St. Louis, is the chief fiscal officer of the city and is charged with safeguarding the city's credit rating and with protecting taxpayer dollars. Visit www.stlouis-mo.gov/comptroller to learn more about the Office of the Comptroller.
With 22 locations in the St. Louis metropolitan area, Reliance Bank is dedicated to building customer relationships by providing a full range of banking services and unmatched personal service. As of December 31, 2016, the Bank's total assets were approximately $1.3 billion. The Bank's website can be found at www.reliancebankstl.com.
Contact Information:


Tyson Pruitt
Public Information Officer to the Comptroller
Office Phone: (314) 613-7360

Department:


Office of the Comptroller

Video
No YouTube videos found