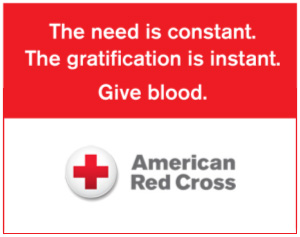 (ST. LOUIS – July 26, 2017) The office of St. Louis Comptroller Darlene Green will host its semiannual Red Cross Charles Drew Blood Drive on Wednesday, August 16th.
The blood drive will be held in Room 208 of City Hall, 1200 Market Street, from 11:00 a.m. until 3:00 p.m. Walk-ins are accepted, but appointments are encouraged to ensure that everyone is seen quickly. The entire process takes less than an hour.
The blood drive is named in honor of Dr. Charles Drew, the African American physician who pioneered the American Red Cross system of blood banking.
There is an ongoing special need for African American donors for two reasons: First, about 70 percent of African Americans have blood type O or B, and these are the blood types that are most in demand. Second, regular blood transfusions can help those suffering from sickle cell disease.
All donors are welcome at the blood drive. The need for blood is constant and only volunteer donors can fulfill that need for patients in our community. Nationwide, someone needs a unit of blood every 2 to 3 seconds and most of us will need blood in our lifetime.
To make an appointment, call 1-800-RED-CROSS or visit redcrossblood.org.
Comptroller Darlene Green is the chief fiscal officer of the City of St. Louis and is charged with safeguarding the city's credit rating and with protecting taxpayer dollars. Visit www.stlouis-mo.gov/comptroller to learn more about the Office of the Comptroller.
Contact Information:


Tyson Pruitt
Public Information Officer to the Comptroller
Office Phone: (314) 613-7360

Department:


Office of the Comptroller