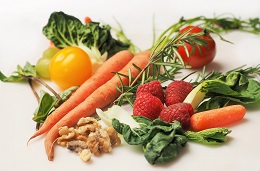 Help the City of St. Louis Department of Health promote a healthier lifestyle by submitting your family's recipe to the Healthy Kids Cook-Off Contest. By submitting a recipe between now and November 30, 2016, you could be chosen as one of three winners to receive $250 to the grocery store of your choice and a $250 Amazon gift card. In addition to winning great prizes, the top three winners also will be invited to prepare their meal in a future video for the City of St. Louis Department of Health.
A healthy recipe should include a fruit, vegetable or a whole-grain and limit the amount or use of salt, sugar and saturated fats (such as butter, red meat, cheese and other animal-based products). A good rule of thumb would be to include naturally colorful foods. 
Reducing obesity in the City is part of the City's Sustainability Action Agenda. The Department of Health is the lead agency in the City working on Mayor Francis Slay's goal of reducing obesity by 5% by 2018. By focusing on the reduction of obesity there will also be a reduction in some of the chronic health conditions facing St. Louis residents, like stroke, hypertension, certain cancers, and arthritis.
Help the City of St. Louis Department of Health fight obesity and promote healthier eating by sharing your family's favorite simple, healthy recipe. For more information or to submit your recipe, visit http://www.healthykidscookoff.org. You can also share it on Twitter and Instagram with #HealthyKidsCookOff to enter. 
Department:


Department of Health