This article is 9 years old. It was published on April 9, 2013.

Mayor Francis Slay today joined more than 600 mayors for the nation's first Mayor's Day of Recognition for National Service. In honor of the day, Mayor Slay issued a proclamation naming April 9th, 2013, as National Service Recognition Day in the City of St. Louis.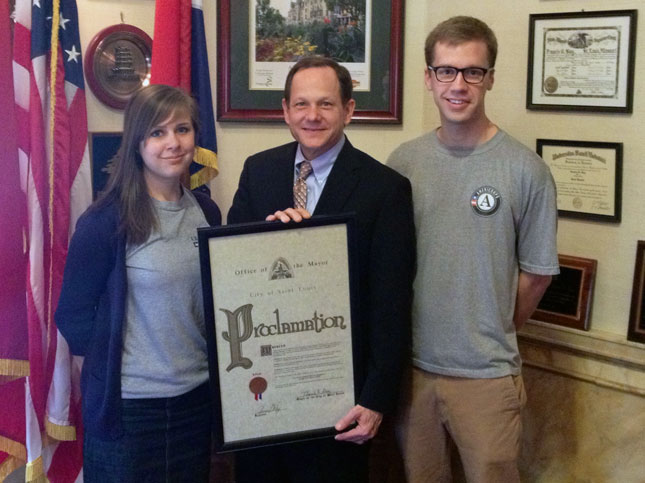 This inaugural day of recognition is an effort by mayors all across the country to highlight the impact of leveraging community service as a means to address challenges faced by cities nationwide.
"St. Louisans do not turn away from challenges facing our community. We have more than 500 AmeriCorps members and Senior Corps participants across the St. Louis region working side by side with individual volunteers, community organizations and government," Mayor Slay said. "Together we are building a stronger region and keeping St. Louis moving forward."

Given the diverse needs of local communities – and the fiscal constraints facing government at all levels – mayors are increasingly turning to national service as a cost-effective strategy to meet city needs. Mayor Slay has worked with his Citywide Service Team, made up of three dedicated AmeriCorps members stationed in the Mayor's Office, to facilitate community-based projects across the City. The Mayor's Citywide Service Team has been responsible for more than 90 service projects, spanning the St. Louis region over the past three years.

On Saturday April 20th, 2013, St. Louis will celebrate the 10th anniversary of St. Louis Serves Day, a collaboration among AmeriCorps St. Louis, Mayor Francis Slay and the United Way of Greater St. Louis, which provides local not-for-profit organizations the capacity to address critical needs that might otherwise go unmet.
"St. Louis Serves Day is a great example of how collaboration and a little sweat equity over the course of a Saturday can energize a community and address big challenges at the same time," Chelsea Bodamer, a second-year member of the Citywide Service Team, said. "For our 10th anniversary we'll be serving beside organizations like Lydia's House, Gateway Greening and the International Institute. We're helping fulfill needs but also teaching people how vital these organizations are for St. Louis."
St. Louis Serves Day 2013 will feature 12 projects led by AmeriCorps St. Louis members. The projects are open for adoption or sponsorship by schools, local businesses and individual St. Louisans.
"I am challenging every St. Louisan to join me in making neighborhoods across the city cleaner, healthier and safer on April 20th," Mayor Slay said.
For more information or to sign-up for a project, please visit  www.unitedwaystlcares.org/stlouisservesday or call Chelsea Bodamer at 314-772-9002.

About Mayors Day Of Recognition For National Service:
The Mayors Day of Recognition for National Service is organized by the U.S. Conference of Mayors and sponsored by the Corporation for National and Community Service (CNCS), the National League of Cities and Cities of Service. Mayor Slay serves as a prominent member of the U.S Conference of Mayors and led the City of St. Louis to be a founding member of the Cities of Service.
Across the country, mayors are participating in a variety of activities, including visiting national service programs, hosting roundtables at City Hall, issuing proclamations and communicating about national service through social media. By shining the spotlight on the impact of service and thanking those who serve, mayors hope to inspire more residents to get involved in their communities.

For more information on the Mayors Day of Recognition for National Service, including background and a list of participating mayors, visit www.nationalservice.gov/mayorsforservice.