This article is 8 years old. It was published on April 25, 2014.

Mayor Francis Slay has appointed private attorney Winston Calvert as City Counselor for the City of St. Louis, effective May 5, 2014.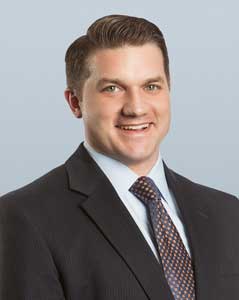 Calvert, who brings nearly a decade of experience as a legal strategist in complex litigation and transactions to City government, will lead a department with two deputy city counselors, 37 attorneys and 19 support staff.
"Winston is joining us because he believes in public service," Mayor Slay said. "He brings experience litigating in both Federal and State Courts and has built a reputation for himself as a tireless attorney, who consistently develops insightful and creative approaches."
Calvert has a wide range of experience, from Brownfield redevelopment projects to religious property disputes.
Calvert received his J.D. from Washington University School of Law. He graduated magna cum laude from Southern Illinois University Carbondale, where he earned his B.M. in music performance.
In recognition of his litigation practice, the Super Lawyers rating service named Winston a "Rising Star" and Missouri Lawyers Weekly named him one of the "Legal Champions of the Year."
His civic involvement and successful law practice put him among the ranks of the next generation of community leaders in St. Louis Magazine's "Generation Now" list. Calvert's love of the arts and education extends to the community, where Calvert serves on boards and committees for the Contemporary Art Museum St. Louis, Opera Theatre of Saint Louis, Perennial, Southern Illinois University, Prison Performing Arts, Carterville Heritage and Preservation Foundation, and Southern Illinois Symphony Orchestra.
Department:


Office of the Mayor


Topic: