This article is 8 years old. It was published on November 4, 2014.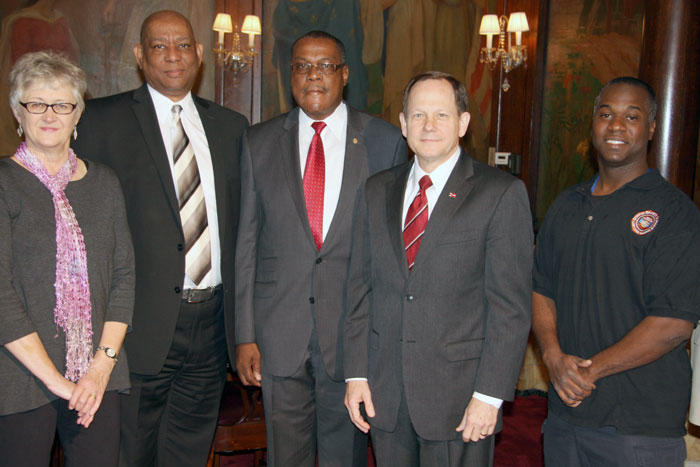 To help the City of St. Louis develop a more diverse police force without compromising quality, the Slay Administration is entering into an agreement with the Ethical Society of Police (ESOP) to help identify and prepare potential minority recruits for careers in law enforcement and other public safety professions.
Together with the NAACP and the Department of Public Safety, the ESOP will identify African Americans who they think might make good police officers, convince them that being a police officer is a good career, and then mentor them through a 10-week course on report writing and interview skills, fitness, professional etiquette, and community-oriented policing strategies. ESOP will then help strong police candidates through the Police Academy application process.
ESOP is also going to help the Department of Public Safety work to increase diversity in its other divisions, such as fire fighters, corrections officers, City marshals, and park rangers. The overall goal is to create a more diverse, high quality police force and public safety department.
"This is an important issue in a number of ways," said Mayor Francis Slay. "The more people in a neighborhood who have trust in the police officers who protect them, the better they will work together to root out criminals and reduce crime. The better police officers understand the dynamics of the neighborhoods they patrol, the better they will be at differentiating the good guys from the bad guys."
The program will be funded with $50,000 from the City's Prop S money for public safety. The agreement will pay St. Louis Metropolitan Police officers from the Ethical Society of Police, to work secondary to help fulfill the City's goal to create a more talented and more diverse pool of public safety applicants to reflect the demographics of the community it serves.
"Minorities make up 34 percent of our police department, making it the most diverse department in the region. But, we can do better," said Rich Gray, City of St. Louis Public Safety Director. "Under Police Chief Sam Dotson, our last four police classes have been diverse. I personally am involved in identifying good candidates and convincing them that being a police officer is a good career. Today's announcement is another step in the right direction."
"The rationale is simple: diversity works," said Sgt. Darren Wilson, President of the Ethical Society of Police.  "It builds community/agency communication networks, weakens cultural-based stereotypes, lessons harmful communication breakdowns, and improves community relationships."
Department:


Office of the Mayor
Metropolitan St. Louis Police Department


Topic:


Police