This article is 8 years old. It was published on October 30, 2015.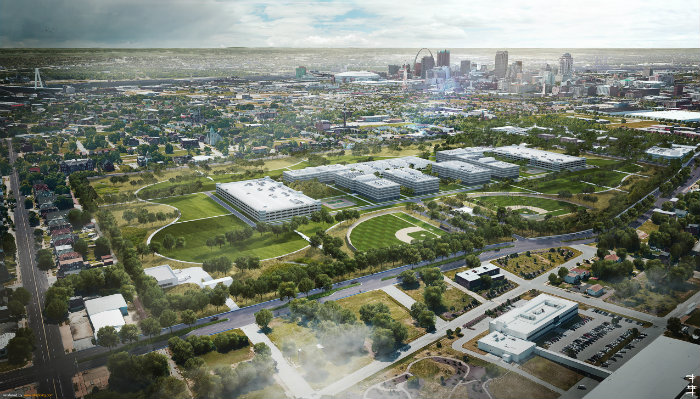 ST. LOUIS -- The proposed North St. Louis City site for the new $1.6 billion National Geospatial-Intelligence Agency (NGA) facility has been gaining strong support from national, state, local, and community leaders.
Missouri Governor Jay Nixon, St. Louis Mayor Francis Slay, Congressman Wm. Lacy Clay, and St. Louis Economic Development Director Otis Williams released a video backing the City's proposed NGA site. And, the project has garnered more than a dozen letters of support, including those from U.S. Senators Roy Blunt, Claire McCaskill, and Kit Bond (retired), St. Louis County Executive Steve Stenger, and the NAACP and AFL-CIO.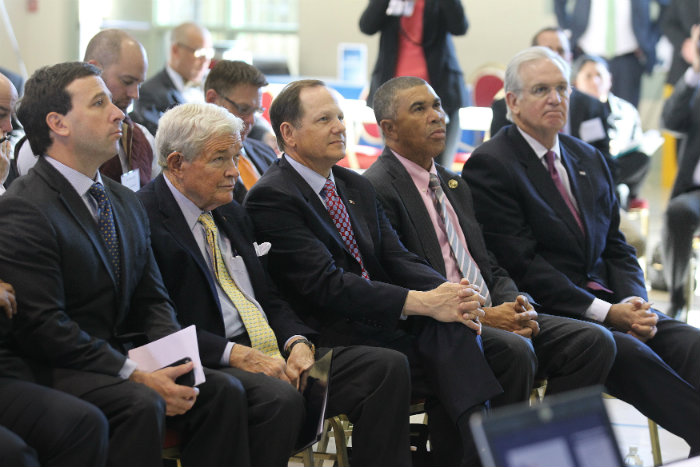 Area political leaders (L to R) St. Louis County Executive Steve Stenger, former U.S. Senator Christopher "Kit" Bond, St. Louis Mayor Francis Slay, U.S. Congressman William "Lacy" Clay and Missouri Governor Jay Nixon
The proposed NGA site in North St. Louis is also supported by multiple federal initiatives in and around the neighborhood; including, Strong Cities, Strong Communities (SC2), Promise Zone, and Choice Neighborhood.
"Keeping the NGA in the City of St. Louis is my top economic development priority," Mayor Slay said. "We are dedicated to retaining the NGA's 3,100 well-paying jobs, creating more than 1,300 new construction jobs with this massive project, and creating a new anchor to help catalyze development in North St. Louis. If we are successful, it also means keeping millions of tax dollars in state and local economies.
The City of St. Louis delivered a briefing book to the NGA, detailing the proposal, which includes a well-connected, 99-acre urban site at the intersection of N. Jefferson and Cass Avenues. A final edition of the briefing book will be distributed later in the year that will respond to the Draft Environmental Impact Statement (DEIS) released on October 9 and include public comments, which close on November 23, 2015.
In a letter to the NGA, Mayor Slay also said, "The NGA is vital to our City's economic health, and its relocation to North St. Louis will reinvigorate a significant urban area of our community. Conversely, losing the NGA would be a devastating blow to our City's economy. The many benefits to the future of both St. Louis and NGA are immeasurable, promising and exciting."
Department:


Office of the Mayor
St. Louis Development Corporation

Video
Gov. Nixon and St. Louis-area leaders work to keep the NGA in St. Louis