This article is 9 years old. It was published on June 3, 2013.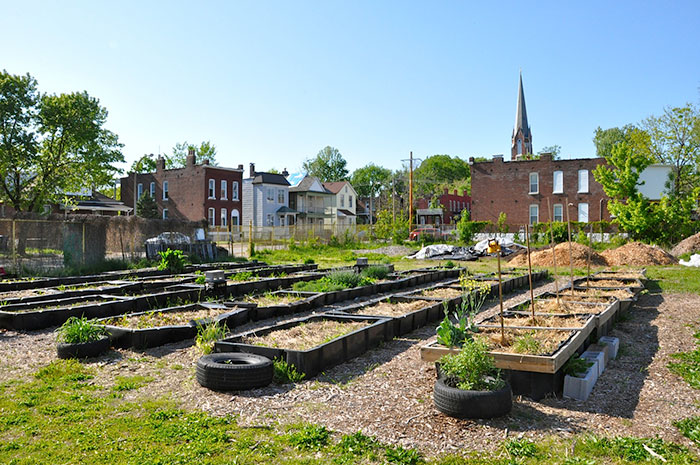 Update 6.18.2013
We had 45 applications representing 26 neighborhoods.  The jury will deliberate next week and seven winners will be chosen to receive $5,000 to implement their sustainability project.
---
St. Louisans now have the opportunity to make their ideas about creating safer, healthier, greener or more attractive neighborhoods a reality. 
As part of a new sustainable neighborhood initiative, the City of St. Louis has launched a Sustainable Neighborhood Small Grant Competition to award $5,000 to each of seven winning teams to fund implementation of their ideas. 
This first-of-its-kind competition is an opportunity for neighborhood organizations, individuals, religious organizations and community groups to propose projects that help improve livability and enhance quality of life at the local level. 
"We have 79 unique neighborhoods, each with their own strengths, character, history and needs," said Mayor Francis G. Slay. "Residents know best what types of projects are likely to have the most meaningful impact on their neighborhood, and we're pleased to be able to offer them helpful resources to get started, plus funding for several ideas." 
Projects should be tailored to address the needs and priorities of the neighborhood; examples might be a community garden, an art installation, beautification, saving energy, creating vitality through businesses, or making the neighborhood feel safer and more walkable. City neighborhood groups of all kinds are encouraged to get involved, learn about new ways to make sustainable changes, and apply for funding to bring projects to life.
"We know that seemingly small changes at the neighborhood level collectively can provide significant impact for improved sustainability in the City and region," said Catherine Werner, the City's Sustainability Director. "The Small Grant Competition is the next step to engage the community in the City's comprehensive Sustainability Plan." 
"The toolkit for neighborhoods is the first item listed on my Sustainability Action Agenda," said Mayor Slay. "I am committed to increasing sustainability in the City of St. Louis and want to tap into the creativity and energy of the people in our neighborhoods."
The City is accepting grant applications untilJune 15th.  The Top Ten Tools is a great place to get started to find some concrete examples of sustainability. Need more ideas? The City's Sustainability Plan has 317 specific strategies tailored to making St. Louis a more livable and sustainable place to live, work and play.
The Sustainable Neighborhood Toolkit and Small Grant Competition is made possible by a national grant that was matched by The Funders' Network and these generous, local sustainability funders: Ameren Missouri, Commerce Bancshares Foundation, Greater Saint Louis Community Foundation, Incarnate Word Foundation, Lutheran Foundation of St. Louis, St. Louis – Jefferson Solid Waste Management District, The Trio Foundation of St. Louis, Wells Fargo Advisors, William A. Kerr Foundation.
Department:


Office of the Mayor