This article is 5 years old. It was published on January 24, 2018.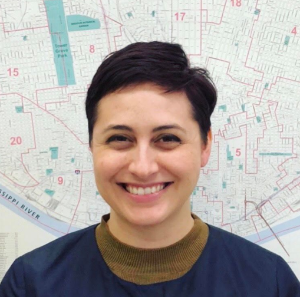 Mayor Lyda Krewson announced that Cristina Garmendia has been hired as Equity Indicators Project Manager.
In June, St. Louis was selected as one of five cities nationally to receive support in developing a tool to measure progress toward equity. The Equality Indicators Project is a collaboration with the City University New York (CUNY) Institute for State and Local Governance (ISLG), The Rockefeller Foundation, and 100 Resilient Cities. Garmendia will manage that project in St. Louis, with a focus on performance management and policy reform guided by equity.
"We're excited to have Cristina on board to lead this critical project," said Krewson. "In our ongoing conversation about equity and the debilitating racial disparities across our communities, this tool can help us measure the inequities we face, so that we can address them and measure our progress."
Nicole Hudson, Deputy Mayor for Racial Equity and Priority Initiatives, said Garmendia's background and training align perfectly with the project. "The combination of her deep experience with data, her experience collaborating with city governments, and the way her work has focused on equity outcomes makes her a great fit for this role," she said.
"Having Cristina lead this project will be a great asset to our resilience efforts," said Patrick Brown, the City's Chief Resilience Officer. "This tool is the first tangible result of our Resilience Strategy development with 100 Resilient Cities. And because we know inequity is a threat to our City's overall resilience, clearly tracking our data related to the inequities St. Louisans are currently facing will be our first step toward being able to address the threat effectively."
Garmendia returns to St. Louis after spending the past year as Senior Research Fellow of Metropolitan Equity at Rutgers Law. Before her work in New Jersey, she earned a Master's Degree in Public Policy from the Harvard University Kennedy School of Government, and co-founded civic technology company Tolemi (formerly OpportunitySpace) which uses data to help city governments more effectively manage their real estate assets.
Garmendia is a graduate of the Sam Fox School of Design at Washington University, where she earned her bachelor's degree, majoring in architecture. She later managed the Healthy PAGE Project, overseeing an interdisciplinary team of researchers to conduct the first Health Impact Assessment (HIA) in the Midwest, a collaborative effort between the nonprofit Beyond Housing and Washington University's Schools of Medicine, Social Work, and Design.
"The St. Louis region has been on a trajectory of inequity for a long time, which is a very hard ship to turn," Garmendia said. "If we're going to shift our trajectory, we need to have a shared expression of what our goals are and how to measure progress against those goals. This project provides an opportunity to develop a common set of goals and measurements to guide institutional decision-making, and empower residents to hold us accountable to the priorities identified by the community in the Forward Through Ferguson report."
Prior to the Equity Indicators opportunity, the United Way of Greater St. Louis had committed to working with Forward Through Ferguson and other partners to develop a regional dashboard for equity — one of the calls to action in the Ferguson Commission Report. The projects have now joined forces.
"While the inequities our residents experience are not bound by political geography, the institutions responsible for taking action are. Our ability to address inequity will require intergovernmental coordination at an unprecedented scale. I firmly believe that whenever possible, the City of St. Louis must lead by example," Garmendia added.
Department:


Office of the Mayor


Topic:


Equality