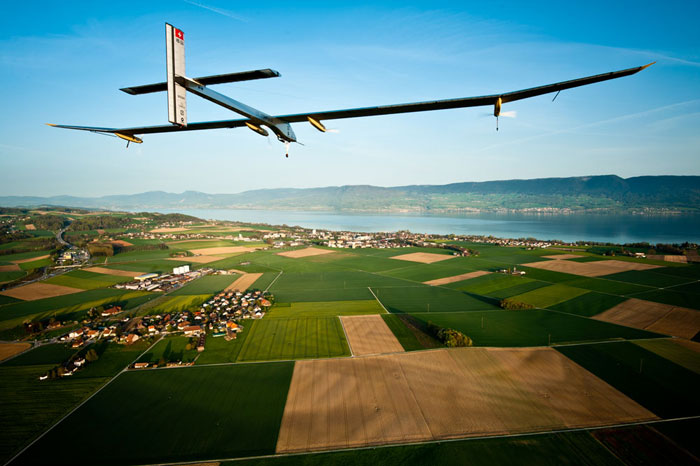 Lambert-St. Louis International Airport will be the next destination for the "Solar Impulse Across America" flight, which will also make stops at Washington DC-Dulles and New York's JFK airports.
The Friday, May 31 severe storm that rocked the St. Louis region caused extensive damage to several airport support buildings and hangars at Lambert-St. Louis International Airport based on an initial assessments by the Airport on Saturday.
The damage will alter the exhibit plans for the Solar Impulse aircraft which is scheduled to arrive late Monday or early Tuesday morning with several days of public and private events to follow at the Airport. The high-tech solar powered plane was scheduled to be parked in Building 2, the former McDonnell Douglas hangar on the north side of the Airfield. Solar Impulse decided to neither postpone nor to cancel the flight to St. Louis and will use its own prototype inflatable hangar in the same general area of the Airport's hangar. This structure, conceived and designed by the Solar Impulse team, will be used for the very first time in real conditions.  The schedule of events will be released at a later time by the Solar Impulse mission team.
Solar Impulse is a prototype carbon fiber airplane with a wingspan of a jumbo jet (208ft) and the weight of a small car (3,500 lbs.). The aircraft is powered by 12,000 solar cells built into its wings which provide power to four 10hp electric motors. Solar cells recharge the aircraft's lithium batteries during the day flight which allows the plane to continue flying at night.
Fans and supporters of the world's most advanced solar-powered airplane can sign up at www.solarimpulse.com (Join Us link) for the latest news and events including specific viewing opportunities in St. Louis when it arrives.  
Department:


St. Louis Lambert International Airport


Topic: