This article is 5 years old. It was published on April 16, 2018.
Today Mayor Lyda Krewson announced the launch of bike share in the City of St. Louis. Two companies, Lime Bike and OFO, have been issued permits by the City of St. Louis and will begin operations Monday.
Roughly 1,500 bikes, scooters and electric bikes will immediately be available throughout the city, with a total of 5,000 bikes to be rolled out over the next six months. Both bike share systems are 'dockless'; bikes can be found and accessed via each company's app instead of at permanent locations or docks.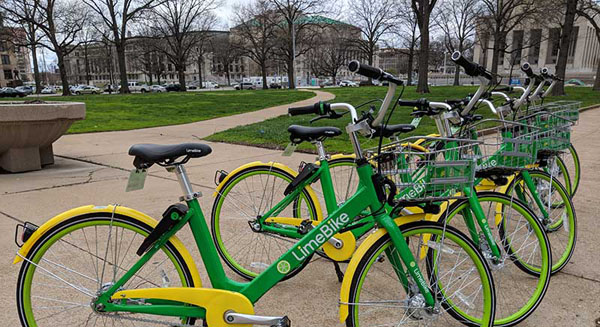 In February, the Board of Aldermen passed an ordinance allowing the city to issue bike share permits. The ordinance allows for multiple bike share companies to operate within city limits, and sets requirements for operation and permit renewal.
In order to prioritize access for communities with limited transportation options, the ordinance requires companies to ensure that 20 percent of their total fleet is made available within eight social equity and inclusion target neighborhoods. These target areas include:
West End/Visitation Park/Academy/Hamilton Heights
Wellsgoodfellow/ Kingsway West
The Ville/Greater Ville
Kingsway East/Fountain Park/ Vandventer
Jeff-Vander-Lou/Grand Center
Carr Square/Columbus Square/Old North/St. Louis Place
Hyde Park/St. Louis Place/Old North
Dutchtown/Gravois Park/Marine Villa/Mount Pleasant
The bike share ordinance also requires companies to offer options for riders that do not have smartphones or credit cards.
"Bike share presents a great opportunity for St. Louis residents and visitors, whether you're trying to get to work or to a meeting, run a few errands, connect to a Metrolink stop or take a trip to a nearby park or museum," Mayor Lyda Krewson said. "By ensuring access to bikes across the city, we can improve transportation options for all St. Louisans and help bridge physical and social divides that have historically separated our neighborhoods."
"As the leading U.S. multimodal mobility company, we're excited to provide St. Louis with accessible, affordable and sustainable transportation options. We've worked with the City and local stakeholders for the past six months to ensure we are rolling out a system that will serve the entire city, helping residents, students and visitors get where they need to go and discover all the amazing things this city has to offer," Sam Sadle, director of strategic development at Lime Bike, said.
"We are thrilled that St. Louis has embraced the dockless revolution, bringing real, positive changes such as reduced traffic, lower emissions, and improved public health to both the city and its residents," Chris Taylor, head of north America for ofo, said.
"It has been an honor for ofo to work in close collaboration with Mayor Krewson, the St. Louis City Board of Alderman, the ommissioner of Traffic and Bi-State Development in creating a top notch bikeshare system for St. Louis.
We remain committed to creating a more equitable, accessible world, and excited to start giving back to the St. Louis community."