This article is 7 years old. It was published on December 28, 2015.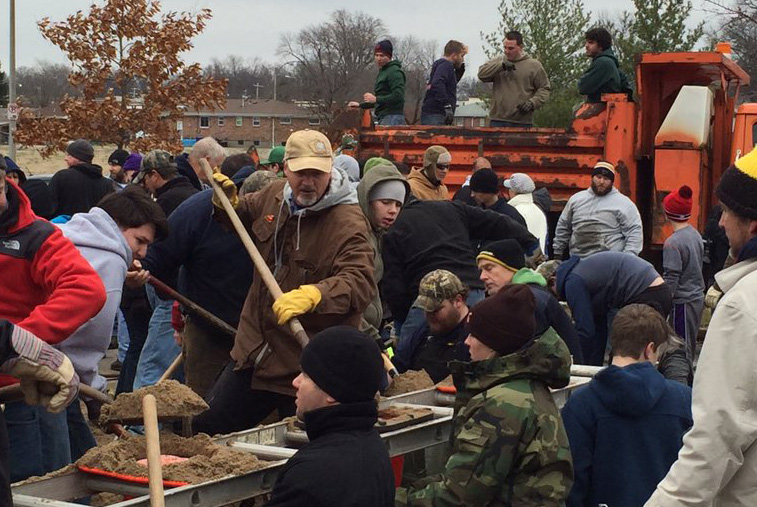 Update 12/30/15 1:30pm -- Street closures and floodplain maps
Update 12/29/15 2:30pm -- Volunteers no longer needed.
Update 12/29/15 2:00pm -- St. Louisans Rally to Fortify the River Des Peres.
ST. LOUIS -- Mayor Francis Slay has issued an Executive Order to declare a City emergency in response to rising flood waters. The declaration activates the City's Emergency Operations Center to coordinate response among City departments and services, along with outside partner agencies, such as MSD, Ameren, the Red Cross, Salvation Army, and the United Way. It also allows the City to request state resources and reimbursement, as necessary.
River levels are expected to quickly crest by Thursday to 44.8 feet, which would be second only to the historic Flood of '93. City crews have closed 36 flood gates along the Mississippi River and have begun a 24-hour watch along both the Mississippi River and the River Des Peres to monitor and quickly act upon signs of distress, such as boils.
"Thanks to voter approval in 2006, the City partnered with the Army Corps of Engineers on a $17.2 million investment to strengthen our flood protection system," Mayor Slay said. "We've been through this before and have a strong team in place to handle whatever comes our way. St. Louisans are resilient and willing to help one another when they need it most."
The City's Street and Parks Departments will begin a sandbagging operation to fortify parts of the River Des Peres levees between Morgan Ford and Alabama. With an estimated 20,000 sandbags needed, the City is asking for volunteers who are willing and able to help their neighbors to come fill sandbags. Interested volunteers should wear boots and gloves and report to the River Des Peres Park parking lot adjacent to Fultz Baseball Field (just east of Gravois Rd.) beginning at 7 a.m. Tuesday, December 29, 2015. 
City drivers also should be aware that while flash flooding can occur on any street, Riverview Boulevard between Hall Street and I-270 will remain closed until flood waters recede. The City also will close Alabama Avenue at the River Des Peres to better control flood waters there.
The St. Louis City Fire Department's Swift Water Rescue Team, which operates 10 boats, has been deployed for rescue missions. Emergency responders remind drivers to both slow down and "turn around, don't drown."
"The biggest problems we're seeing are ones that can be avoided," Fire Chief Dennis Jenkerson said. "We've responded to multiple accidents because people were speeding and lost control of their vehicles, and we've also had to rescue stranded drivers after they attempted to drive through flooded roadways."
Since this storm began, first responders have answered to 61 traffic accidents and 24 incidents of people stranded by high water.
Residents should always call 911 for emergencies but are encouraged to use 211 for non-emergencies. Report City service needs, such as street light and signal outages, downed trees, or flooded roads, to the Citizens' Service Bureau at 314-622-4800.