This article is 4 years old. It was published on November 19, 2018.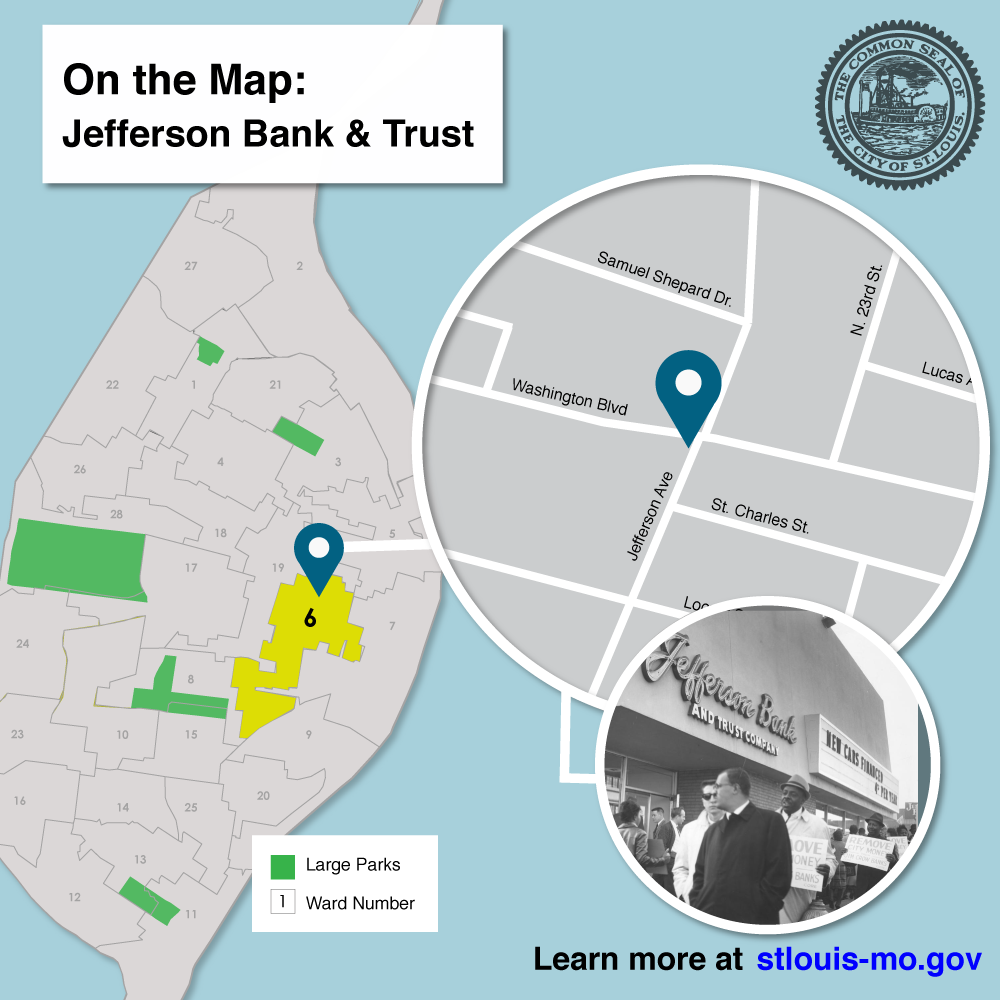 Too often the history of our city goes untold. The streets we walk down or houses we pass have a storied past that is sometimes forgotten. To commemorate Black History throughout the year, we will be sharing the stories of places in our city that in one way or another have been home to the rich history of Black St. Louisans. 
This edition of On the Map focuses on the Jefferson Bank and Trust, the site of a pivotal protest in the St. Louis civil rights movement.
As the Civil Rights Movement swept across the country, St. Louis saw its own flashpoint regarding the economic rights of black St. Louisans. In the early 1960s, Jefferson Bank and Trust refused to hire black clerks. In response to a demand from the Committee of Racial Equity (CORE) that the bank hire four black clerks, Jefferson Bank responded that "there were not four blacks in the city" who could adequately complete the job. The bank continued to offer this justification for its discriminatory practices, leading CORE to work with local activists to launch a protest in response.
Starting August 20, 1963, demonstrators protested outside of Jefferson Bank for almost seven months straight, demanding that they hire black tellers. The protests occurred outside and inside the bank, blocking the doorway to force the management to address their concerns. Protesting came at a price for some activists like Bill Clay Sr. who were thrown in jail with a purposefully expensive bond. Despite heavy criticism from people throughout the city and from publications like the St. Louis Globe-Democrat, the protesters continued to show up, blocking the doorway and singing songs like "We Shall Not Be Moved." The protests ultimately worked, pressuring Jefferson Bank to hire black tellers. Other St. Louis companies eventually followed their example, hiring more black employees. 
The Jefferson Bank and Trust protests were held at the bank's former location at Jefferson Avenue and Washington Blvd. 
References
Photo:  Collections of the St. Louis Mercantile Library at the University of Missouri–St. Louis.