This article is 4 years old. It was published on January 16, 2019.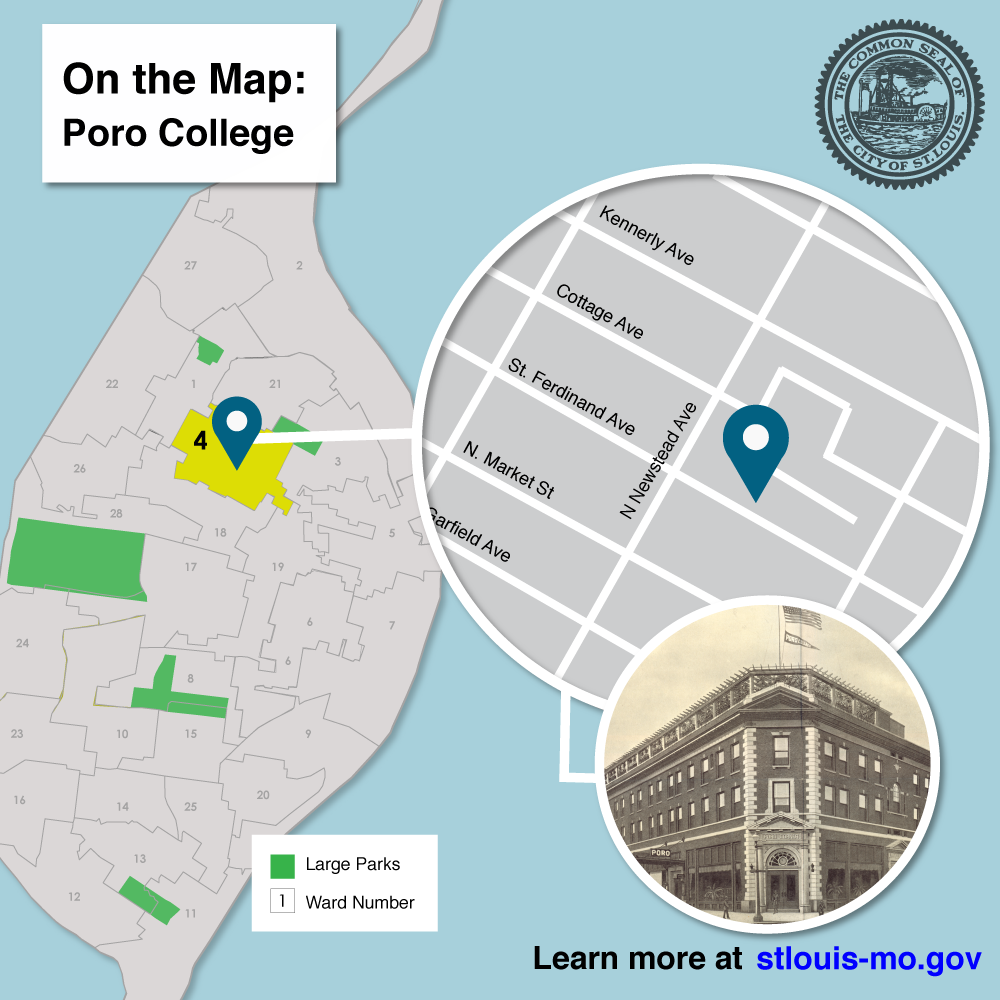 Too often the history of our city goes untold. The streets we walk down or houses we pass have a storied past that is sometimes forgotten. To commemorate Black History throughout the year, we will be sharing the stories of places in our city that in one way or another have been home to the rich history of Black St. Louisans.
This edition of On the Map focuses on Poro College, founded in 1917 at 4300 St. Ferdinand Avenue in The Ville neighborhood.
The story of Poro College starts with Annie Turnbo Malone, a businesswoman originally from Illinois. Malone grew up with an interest in chemistry.
After she moved to St. Louis, she began creating beauty products that were tailored towards black women. She both developed and manufactured her own hair products, traveling door-to-door to sell her formula.
Malone eventually decided to patent her invention under the name Poro and went on to found a beauty college under the same name in 1917. Poro College functioned as the training ground for aspiring beauticians and salespeople. Though the College did not provide formal degrees, it did equip its students with professional skill sets and connections with prominent black St. Louisans across the city.
The facility took up an entire city block and included an on-site beauty parlor, instructional department in cosmetology, and a rooftop garden. Nearly two hundred local St. Louisans were employed at the Poro College, including many graduates of Sumner High School.
The Poro beauty line rapidly grew, selling beauty products in the United States, Philippines, the Caribbean, and many African countries. Poro College also expanded, opening locations in fifteen major cities throughout the United States.
Poro made Annie Malone a multi-millionaire and one of the first black women to be a major American philanthropist. The St. Louis Poro College building is now the James House (a residential building) in the 4th Ward.
References
Most Read News
CDA Announces $10 Million in Awards for Neighborhood Transformation Grants

ARAP-funded award categories are Proactive Development, Neighborhood Beautification, Non-profit Capacity Building, and Home Repair.

Mayor Tishaura O. Jones, Joined by President Megan Green, Alderman Shane Cohn, and Safe Streets Advocates, Announces New Effort to Implement Automated Traffic Enforcement in St. Louis

The effort is a part of the St. Louis Safer Streets initiative, which aims to improve street and pedestrian safety.

City of St. Louis Completes Expansion of Jefferson Spaces Tiny Homes Transitional Housing Project, Doubling Number of Units Available to Assist Unhoused

Funded with $1.2 million in American Rescue Plan Act (ARPA) funds, the expansion doubles the number of Tiny Homes to 100, to assist unhoused individuals to transition into permanent supportive housing.