Mayor Slay and 100 Resilient Cities - Pioneered by the Rockefeller Foundation,  Launch 'Resilient St. Louis' at Workshop with Key Stakeholders to  Begin Blueprint to Build Resilience
Workshop Brings Together Partners from City, Private Sector, Business and Community Groups, and 100RC Staff.
October 27, 2015
|
3 min reading time
This article is 7 years old. It was published on October 27, 2015.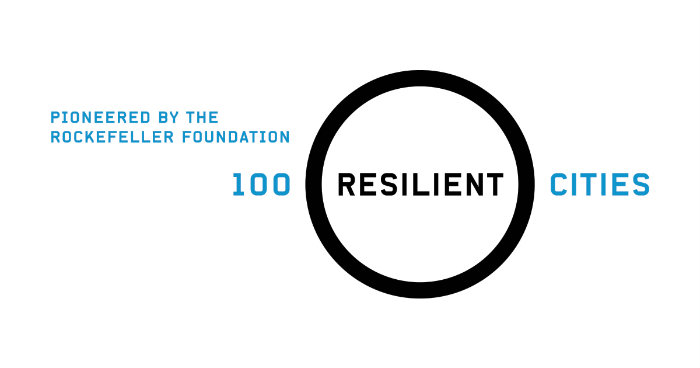 100 Resilient Cities - Pioneered by the Rockefeller Foundation, is Dedicated to Building Urban Resilience in 100 Cities around the World –City of St. Louis is a Member of $150M+ Effort.
ST. LOUIS -- The City of St. Louis and Mayor Francis Slay, joined by
100 Resilient Cities - Pioneered by the Rockefeller Foundation
(100RC), is beginning to undertake efforts to become more resilient to the shocks (sudden, catastrophic events) and stresses (underlying social and physical challenges) that are increasingly part of 21st century life. The City of St. Louis was named part of the 100RC network in December 2014, along with cities like London, New York, Bangkok, and Rio de Janeiro –and was selected from more than 700 applicants from around the world.
"Together with our community partners, we will build a Resilience Strategy to help our City better respond to the shocks and lessen the stressors," said Mayor Francis Slay. "Too many of our neighbors live in neighborhoods with high poverty and high crime rates, which reduce community safety and inhibit investment and growth. We also recognize that building resilience will involve addressing our aging infrastructure, response to natural disasters, deficits and disparities in education and public health, and economic disparities to help reduce social tensions citywide. While we are proud of the progress we've made on these fronts, we are very eager to do more with the generous resources of 100RC."
"City governments are on the front line of dealing with acute shocks and chronic stress. The City of St. Louis is part of a group of cities leading the way on resilience to better prepare for, withstand, and recover more effectively when disruption hits," said Rockefeller Foundation President Judith Rodin." Through this type of inclusive resilience planning cities can be better prepared for the unexpected. They can also realize the resilience dividend, the economic and competitive advantages that come from taking a resilience mindset. Your commitment to resilience thinking, planning and action will set a global example."
The
Resilience Agenda-Setting Workshop
is the City's first engagement in its partnership with 100RC. The workshop brings a diverse set of stakeholders from across city government and the private sector, non-profits, universities, business and community groups into the planning process. It seeks to uncover all the threats the City is facing, including those previously unknown, while unveiling resilience building tools and plans to address those threats. Following the workshop, the City of St. Louis will name a
Chief Resilience Officer (CRO)
–an innovative
new position
in city government, funded by 100RC. The CRO will lead the City's resilience efforts and continue to engage stakeholders, resilience experts, and 100RC staff in drafting a comprehensive Resilience Strategy.
"The City of St. Louis is helping fuel global momentum around building urban resilience, and leading by example," said Michael Berkowitz, President of 100 Resilient Cities. "The agenda workshop will clarify the City's needs, surface innovative thinking, and give us a blueprint for engaging partners from across sectors to bring the City the tools and resources needed to become more resilient."
The City of St. Louis was selected as one of 67 members of what will ultimately be a 100-city global network, and will receive technical support and resources to develop and implement a Resilience Strategy. Each city in the 100RC network receives four concrete types of support: 
Financial and logistical guidance for establishing an innovative new position in city government, a Chief Resilience Officer, who will lead the city's resilience efforts;
Technical support for development of a robust Resilience Strategy;
Access to solutions, service providers, and partners from the private, public and NGO sectors who can help them develop and implement their resilience strategies; and 
Membership in a global network of member cities who can learn from and help each other.
The City's Resilience Strategy will be a holistic, action-oriented plan to build partnerships and alliances, financing mechanisms, and will pay particular attention to meeting the needs of poor and vulnerable populations. The workshop began the process of identifying priorities, actions, and metrics, and the plan will be drafted over the next 6-12 months.
Workshop Details
Location: Il Monastero (Saint Louis University), 3050 Olive 63103 
Date: Tuesday, October 27, 2015 
Time: 9 a.m. - 5 p.m.
About 100 Resilient Cities—Pioneered by The Rockefeller Foundation 
100 Resilient Cities - Pioneered by The Rockefeller Foundation (100RC) helps cities around the world become more resilient to social, economic, and physical challenges that are a growing part of the 21st century. 100RC provides this assistance through: funding for a Chief Resilience Officer in each of our cities who will lead the resilience efforts;resources for drafting a Resilience Strategy;access to private sector, public sector, academic, and NGO resilience tools;and membership in a global network of peer cities to share best practices and challenges. 100RC currently has 67 member cities. For more information, visit:
www.100resilientcities.org/about-us
.
100RC recently launched the third and final round of the 100 Resilient Cities challenge, where cities can apply to become part of the final cohort of cities in the global network of 100 cities. For application information, visit:
www.100ResilientCities.org/challenge
.
###