Employee Wellness
The City of St. Louis offers an Employee Wellness Program funded through a partnership with BJC
Program Information
2019 Bee-Fit Health Risk Assessment Report
The BeeFit Wellness Program is a partnership between The City of St. Louis and BJC Healthcare and focuses on educating and motivating City of St. Louis employees to live a healthy lifestyle.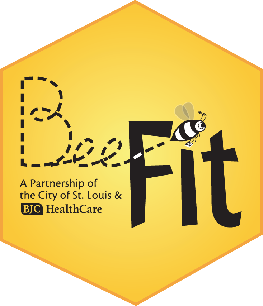 Contact
For more information about the Program, please contact BeeFit Wellness Coordinator, Cathy Hargrove by e-mail at CityEmployeeWellness@stlouis-mo.gov or by telephone, at 314-622-4849.
Program Offerings
BeeFit offers the below Programs and much more:
Challenges and Events: Set and achieve healthy lifestyle goals through fun individual and team competitions. Check out current BeeFit challenges or go to Walker Tracker to learn how to create your own!
FREE Employee Fitness Centers
Become a fan on Facebook
Communications
Employee wellness programs are advertised through Community e-mail and Facebook. Stay up to date by joining one or both.
Waiver & Program Forms
Employee Wellness Program Regulation & Forms
BeeFit Wellness Program Request
BeeFit Wellness Program Timesheet
Lifestyle Well-Being
BJC Employee Assistance Program
Tobacco Cessation
Free Tobacco Cessation Products
2 comments from people like you have helped us improve this page. Keep the feedback coming!