This article is 2 years old. It was published on May 25, 2021.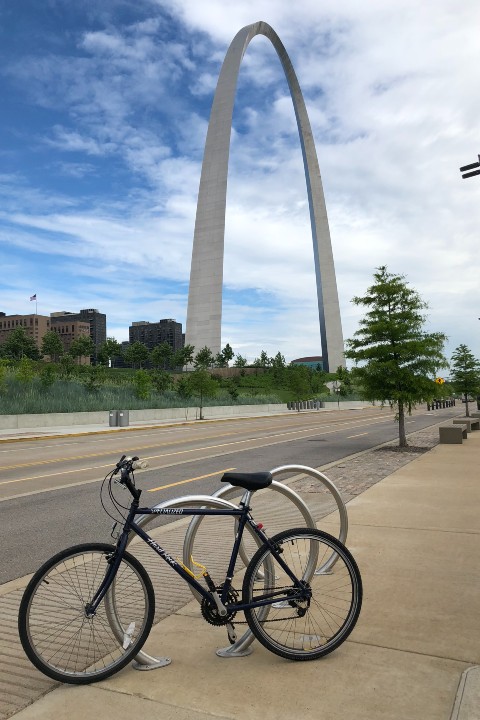 Today, the League of American Bicyclists recognized the City of St. Louis with a Silver-level Bicycle Friendly Community (BFC) award in the Spring 2021 application round. The recognition acknowledges an existing commitment to making St. Louis safe and accessible to cyclists of all abilities, and significant planned improvements to the bicycle network which will extend safe and convenient cycling amenities to more residents in more neighborhoods around St. Louis.
Each of the five levels of the Bicycle Friendly Community award – diamond, platinum, gold, silver, and bronze, plus an honorable mention category – provide a feedback and metrics on how communities can continue to improve their ranking. This is the second time the City of St. Louis has been awarded the Silver-level recognition.
"Biking in America has shown great resilience in light of trying times and it's so important that communities like St. Louis have laid the groundwork over several years to make biking a safe, accessible option for all. As so many Americans have turned to biking as a fun way to get outdoors and as a necessary transportation option, we must keep the momentum to build a Bicycle Friendly America for everyone going," said Bill Nesper, executive director of the League of American Bicyclists. "This Bicycle Friendly Community award is the culmination of years of work put in by St. Louis and its citizen advocates for better biking."
The League of American Bicyclists' Bicycle Friendly America program sets the standard for how communities build and benchmark progress toward making biking better. This round of awards includes 37 new and renewing awardees, joining a total of 487 current Bicycle Friendly Communities in all 50 states and the District of Columbia. The Silver-level BFC award recognizes St. Louis' commitment to improving conditions for all people who bike through investments in regular bike events that promote and encourage people to choose biking, pro-bike policies, bike infrastructure, and an active and diverse cycling community.
The Bicycle Friendly Community program asks communities to evaluate the state of bicycling and work towards ways to improve quality of life, sustainability and transportation options for more people. Through this award process, the City of St. Louis has been able to benchmark our progress toward improving our bicycle-friendliness and see how much more we can do.
The City of St. Louis looks forward to constructing many new all-ages, all-abilities bicycle facilities in the coming years. Currently funded projects include the Louisiana Calm Streets Project, Tucker Cycletrack, 20th Street bikeway between Chouteau Ave. and St. Louis Ave, 7th St. Cycletrack, and Tower Grove Connector. Paired with the City's partnership with Great Rivers Greenway to construct both the transformational Brickline Greenway and the Hodiamont Greenway, St. Louis looks forward to aiming higher for Gold-level recognition in four years during the next application cycle.
Department:


Board of Public Service
Department of Streets