This article is 9 years old. It was published on July 16, 2013.

The U.S. Department of Labor's Employment and Training Administration awarded the St. Louis Agency on Training and Employment (SLATE) $818,165 under the "Face Forward" grant program aimed at helping juvenile offenders obtain employment and access needed for support services. SLATE was one of 28 organizations nationwide to receive funding under this new program. Grant was announced today, July 16, 2013, at a press conference held at Fathers' Support Center's Prince Hall, located at 4411 N. Newstead, St. Louis, MO 63115, with Mayor Slay, program partners, and media representatives in attendance.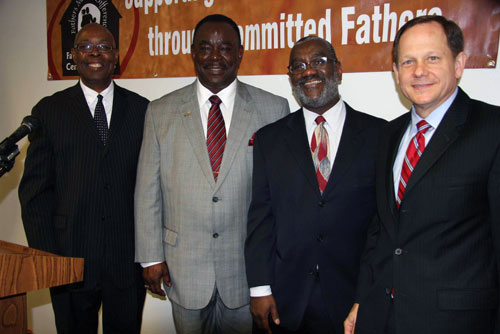 Under the grant, SLATE will operate the You Only Live Once (YOLO) StL Youth Diversion Program over the next three years. YOLO StL is designed to assess more than 100 juveniles and provide them with intensive case management while individually matching each youth with a volunteer mentor. Participants must be residents of the City of St. Louis, between the ages of 16 and 24, and have current or past involvement with the juvenile justice system.
Each participant will be engaged in paid summer employment or other work and matched with a variety of service learning experiences, to gain access to the skills needed to pursue full-time employment and/or a post-secondary education. Washington University School of Law's Civil Justice Clinic will provide no-cost advice to YOLO participants, ensuring that they fully understand all the legal rights to which they are entitled and are provided with representation as appropriate.
"SLATE has helped at-risk youth for nearly 40 years, and this is just the latest example of its commitment to putting young men and women on a path toward self-sufficiency, dignity and prosperity," said Mayor Francis Slay.
"Everyone in our community, from court officials to law enforcement to health clinics to training providers, has welcomed this effort with open arms," said Michael K. Holmes, Executive Director of SLATE. "Working with them, we will be giving young people everything they need to start again and succeed."
Among the numerous other individuals and agencies that have endorsed this new effort are Judge David Mason on behalf of the St. Louis Family Court – Juvenile Division, Judge Jimmy Edwards on behalf of the Innovative Concept Academy, Circuit Attorney Jennifer M. Joyce, the St. Louis Workforce Investment Board, the St. Louis Metropolitan Police Department, the Missouri Department of Corrections and the Missouri Department of Social Services.

Department:


St. Louis Agency on Training and Employment