This article is 7 years old. It was published on August 3, 2015.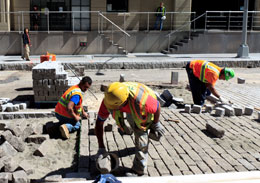 Tomorrow, the St. Louis Agency on Training and Employment (SLATE) American Job Center will conduct a Construction Information Session for job seekers interested in working as Bricklayers. The event will start at 10:00 a.m. at SLATE, 1520 Market Street, 3rd Floor Conference Room, St. Louis, MO 63103. SLATE has partnered with the Bricklayers &Allied Craftworkers Local No. 1 of Missouri to offer this informational event.
At the information session, representatives from the Bricklayers Local No. 1 will provide details of their apprenticeship and training program, answer questions about how to apply, and provide career guidance and networking opportunities.
Bricklayers are not only important for the structural integrity of buildings, they also help create their distinctive beauty. They lay brick, block, stone, glass block and related materials, with or without mortar. Bricklayers must be able to work at great heights, handle heavy materials, work in teams, follow instructions and accomplish tasks, safely and accurately.
Bricklayer apprentices receive three-and-a-half years of on-the-job training, working beside a journey-level bricklayer, and classroom/shop instruction training.
Those participants who are unsure if they will enjoy working as a Bricklayer before applying for apprenticeship, have an opportunity to try it as part of a pre-apprenticeship class. This 8-week introductory course will provide students with hands-on experience in participating trades;these trades are part of a new Building Union Diversity (BUD) program, administered by SLATE, and taught by nationally certified and union-approved apprenticeship training specialists.
Construction industry sector jobs are predicted to grow significantly between now and 2016. Many exciting opportunities exist for bricklayer apprentices to work on a growing number of major St. Louis area construction projects. With residential construction also on a rise, apprentices can enjoy faster than average placement into employment.
At the information session, attendees should bring their resume and dress appropriately. Those not registered with the American Job Centers network will be asked to register onsite. For additional information, please contact Stacey Fowler at constructionintake@stlworks.com.
Department:


St. Louis Agency on Training and Employment