This article is 7 years old. It was published on August 5, 2015.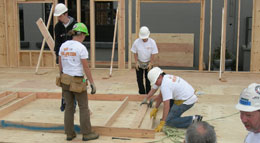 The St. Louis Agency on Training and Employment (SLATE) American Job Center (AJC) will conduct a Construction Information Session for job seekers interested in pursuing careers as Construction Craft Laborers. The event will take place tomorrow, August 6, at 10:00 a.m. at SLATE AJC, 1520 Market Street, 3rd Floor Conference Room, St. Louis, MO 63103. SLATE has partnered with L.I.U.N.A. to offer this informational event.
At the information session, L.I.U.N.A representatives will provide details of their apprenticeship and training program, answer questions about the application process, and provide career guidance and networking opportunities.
Construction craft laborers perform a wide variety of tasks in all areas of construction, including commercial and residential building construction, heavy and highway construction, and environmental remediation. Because of this exposure, every builder has a chance to find a particular activity they can be good at and enjoy;some of the best go on to establish their own companies.
The Construction Craft Laborer Apprenticeship consists of 4,000 hours of on-the-job training and up to 424 hours of off-site training at the Laborers-AGC Training Center located near High Hill, Mo.
Those participants, who are unsure if they want to work as construction craft laborers before applying for apprenticeship, have an opportunity to try it as part of a pre-apprenticeship class. This 8-week introductory course will provide students with hands-on experience in participating trades;these trades are part of a new Building Union Diversity (BUD) program, administered by SLATE, and taught by nationally certified and union-approved apprenticeship training specialists.
Construction industry sector jobs are predicted to grow significantly between now and 2016. The Construction Craft Laborer apprentices will be part of a growing number of major St. Louis area construction projects, including expansion of Ballpark Village, Urban League's Community Empowerment Center in Ferguson, Ameren's infrastructure upgrades, developments in Cortex district and the Arch grounds, Northside project, and numerous others.
At the information session, attendees should bring their resume and dress appropriately. Those not registered with the American Job Centers network will be asked to register onsite. For additional information, please contact Stacey Fowler at
constructionintake@stlworks.com
.
Department:


St. Louis Agency on Training and Employment