Training & Education
SLATE's training programs help St. Louisans who are minorities, women, and long-term unemployed enter careers in growing industries
Our career development and training programs help job seekers obtain the education and skills they need to succeed in today's labor market. If you're a resident of St. Louis City, you may be eligible to receive a financial assistance of up to $10,000 to help cover the cost of tuition, books, supplies and more. Participants are also given access to a variety of resources to ensure job readiness, including workshops on résumé writing and interview skills, as well as skills assessments, and individualized career guidance.
About The Workforce Innovation and Opportunity Act
Through the Workforce Innovation and Opportunity Act (WIOA), SLATE Missouri Job Center provides personalized services to help job seekers upgrade careers or return to the workplace by offering career readiness and training services. You can check out the approved occupational training programs by clicking here. In some cases, we may even offer financial assistance to help pay for your career training and education, if you are eligible.
What is WIOA and Why Should I Enroll?
The Workforce Innovation and Opportunity Act (WIOA) program is designed to strengthen and improve our nation's public workforce system in order to help Americans, including youth and those with significant barriers to employment, get into high-quality jobs and careers and provide employers with skilled workers to hire and retain. Enrollment into WIOA program gives job seekers access to staff-assisted services to become more marketable in the workplace. For additional information about WIOA, click here.
Who Can Participate?
Any St. Louis City resident who is 18 years of age or older and registered for Selective Service (if required)
Any individual who is authorized to work in the U.S.
Any person who is unemployed or has received a notice of termination or layoff from employment
Any employed person who meets low-income eligibility criteria.
How Do I Get Started? 
Register or update your registration in MoJobs. 
Attend our WIOA Orientation. You will be assigned a Career Advisor. 

WIOA Orientations are on Tuesdays at 2 p.m. and Fridays at 10 a.m. at SLATE Missouri Job Center, 1520 Market Street, 3rd Floor, St. Louis, MO 63103. For more information, call (314) 589-8000.

Collect and submit the required documents to your Career Advisor. 
WIOA enrollment is determined by submitting required documentation, assessments and your continuous engagement with the career Center staff.
Have a Question?
Please fill out the form below to get in touch with our WIOA representative. 
Interested In Becoming A Training Provider?
SLATE Missouri Job Center proudly collaborates with a variety of public and private education and training institutions located in St. Louis City. Our eligible training providers become a part of a customer-focused workforce investment system that improves opportunities by giving those seeking employment the tools and skills needed to either enter or advance in a career. 
If your organization is interested in becoming a SLATE Missouri Job Center training provider, please download an Application Packet. 
Connect with Us
---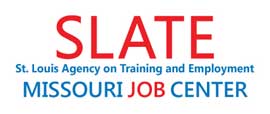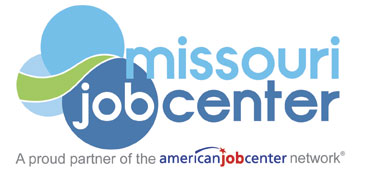 SLATE Missouri Job Center is an Equal Opportunity Employer and Service Provider. Auxiliary aids and services are available upon request to individuals with disabilities. If you need this information interpreted to a language you understand or in a different format, please contact 314-589-8000. Callers who are deaf or hearing or speech-impaired may reach us at Missouri Relay Number 711.
>> Equal Opportunity & Accommodations
>> Notice of Federal Funding and Federal Disclaimer
>> Babel Notice