Adam L. Layne
Treasurer, City of St. Louis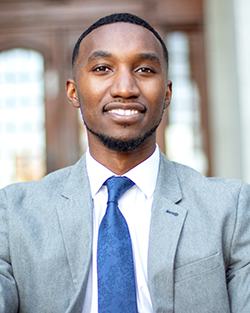 The cornerstone Treasurer Adam L. Layne was cut from was built on Transparency, Integrity, & Service. Set apart to serve, his career experiences have been shaped by the most powerful and influential stakeholders of our region… St. Louis children and families.
Treasurer Adam Layne was appointed in April of 2021 to succeed the former Treasurer, Tishaura O. Jones, after winning a historic election as St. Louis' first Black Woman to be Mayor. A familiar name, many came to know Treasurer Layne from his service as the Deputy Chief of Staff for the City of St. Louis Treasurer's Office. Layne proved to be an especially valued asset amidst the economic challenges of the pandemic as he worked tirelessly throughout 2020 to improve systems and deepen community engagement with the work of the STLTO. One of his most notable efforts include his leadership and launch of the Parking and Towing Assistance Program (PTAP), a program that creates payment plans for St. Louisans with multiple fines, allowing them to freeze their fees, pay off their balances in smaller amounts, and climb out from under the financial burden without getting their cars booted or towed.
Treasurer Layne joins the STLTO as an experienced elected official as he finished first in his 2019 race for the St. Louis Public School (SLPS) Board. During his time on the Board of Education, Treasurer Layne advocated relentlessly for every school to be a quality school, while always centering equity and seeking to dismantle historically oppressive systems. One of his greatest successes was creating and chairing the Standing Committee on Budget Equity & Transparency.
Having established his professional career in 2011 as a SLPS high school math teacher, Treasurer Layne went on to develop, lead, and direct the high school support and college access program at InspireSTL (2017), where he was later sought out as an independent consultant to develop, design, and implement curriculum and diversity training for organizations in St. Louis and across the nation. An avid writer, he launched his own nonprofit program, The Young Griot Society, which seeks to increase youth literacy through their love for creative writing. In 2019, he joined Washington University as a research associate, supporting the launch of the Academy for Diversity, Equity, and Inclusion.
A proud graduate of the George Washington University School of Business, Treasurer Layne received his Bachelor of Business Administration in Finance and went on to earn a Master of Education from University Missouri St Louis. Before moving to St. Louis, Treasurer Layne worked directly in the financial industry, spending time with Edward Jones and as an associate for a private equity firm in Washington, DC.
Contact Information
Address:
Room 220 City Hall
1200 Market Street
St. Louis, Missouri 63103