This article is 8 years old. It was published on December 16, 2014.

They are small, tightly coiled objects of found art, but they are woven with creative history and mystery. The Lambert Art and Culture Program has opened a new exhibit, "Philadelphia Wireman," in the Terminal 1 Ticketing Lounge, on display through June 2015.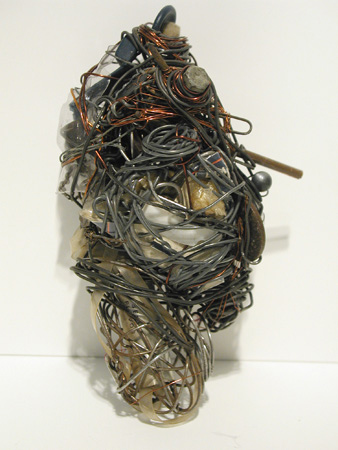 The exhibit features 20 intricate wire sculptures from the collections of two galleries: Fleisher/Ollman Gallery of Philadelphia and the William Shearburn Gallery of St. Louis. The pieces come from a discovery in Philadelphia in the early 1980s. Hundreds of these wire-figure creations, which resemble the human body or architectural motifs, were left abandoned in an alley. The creator is unknown but is believed to be a man who may have scavenged for all the elements of his art from the streets. Since then, the mystery artist's work has been exhibited around the world. This is one of the rare times that parts of the collection have been viewed out of a museum or gallery setting.
"I love the idea of thePhiladelphia Wiremanor anything that is art taken out into another context," said William Shearburn, William Shearburn Gallery. "I love these objects. They are extremely powerful and packed with energy."
Experts believe the collection is one of the greatest examples of self-taught art, with figures that have heavy associations with Native-American, African-American and even classical art themes. With wire as the primary material in the pieces, the artist also included other found material such as foil, plastic, newspaper, batteries, hinges and matchbooks.
The Lambert Art and Culture Program sponsors both temporary exhibitions and permanent art installations with a mission to enhance the visual impression of the Airport and support the arts in the St. Louis region.
The Lambert Art and Culture Program is led by the 7-member Airport Art Advisory Committee: David Allen, Director of Metro Arts in Transit; Susan Marie Barrett, Director of the World Chess Hall of Fame; Laura Helling, Director of Development for Wings of Hope; Marilu Knode, Director of Laumeier Sculpture Park; Jill McGuire, Executive Director for the St. Louis Regional Arts Commission; Kiku Obata, Founding Principal of Kiku Obata & Co.; and Freida L. Wheaton, Salon 53 and Founder of Alliance of Black Art Galleries.
Department:


St. Louis Lambert International Airport