This article is 4 years old. It was published on November 28, 2018.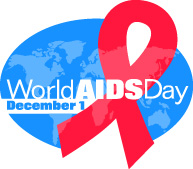 Every year World AIDS Day is held on December 1, as an opportunity for the community to unite in the fight against HIV, to show support for people living with HIV & AIDS, and to commemorate those who have died from an AIDS-related illness. 
In observance of World AIDS Day, City of St. Louis Department of Health staff will host the following free activities on Friday, November 30th, 2018. These activities will be offered at the first-floor lobby inside the Abram Building at 1520 Market St, St. Louis, MO 63103.
Red Ribbon Pick-up - 7:30 am-10:00 am

Stop by to pick up a red ribbon to wear throughout the day as a way to acknowledge and remember the significance of World AIDS Day.

Quilt Dedication Ceremony - 12:25 pm

From November 30 – December 3, two quilts will be on display in the first-floor lobby representing various individuals who lost their lives due to AIDS. During this time, staff will gather for a brief statement acknowledging those persons lost to AIDS.

Moment of Silence - 12:30 pm

Staff and the community Join together for a moment of silence to recognize and pay respects to those who have lost their lives from AIDS.  

Free HIV Testing - 7:30 am -1:00 pm

HIV testing will be offered with results available in 15 minutes. The first 10 individuals to get tested will receive a free gift. Informational resources on HIV/AIDS and STDs will also be available. 
Public Health Program Representatives Whitney Anderson and Jon Murphy recently spoke with STL Live host Sarah Thompson about the Department of Health's programs to educate the community about HIV and AIDS. You can watch the conversation here: STL Live: HIV programs and World AIDS Day Observance
What are some other ways you can observe World AIDS Day? Here are some examples. 
Wear red to display a unified front towards combating HIV/AIDS on November 30th and December 1st.
Get tested for HIV. The CDC recommends that everyone between the ages of 13 and 64 get tested for HIV at least once as part of routine health care.
Educate yourself on HIV and AIDS and help educate others. Go to https://www.cdc.gov/hiv/basics/index.html to learn more.
If you are in need of testing and are unable to attend Friday's observance, visit STLCondoms.com for information on testing and treatment sites, as well as support groups and locations offering FREE condoms.
Department:


Department of Health