Direct Cash Assistance Data Summary
Zip code and ward data for the 2021 Direct Cash Assistance program.
Since March 2020, the COVID-19 pandemic has devastated individuals personally and financially. Using funding from the American Rescue Plan, the City of St. Louis allocated financial support for residents through the Direct Cash Assistance Program. The program provides a one-time $500 payment program for qualified households.
The program, spearheaded by Mayor Jones, is administered by the United Way of Greater St. Louis, the Department of Human Services, and the Treasurer's Office. On December 18, 2021, the City of St. Louis rolled out its application for the Direct Cash Assistance Program. This initial in person event served over 550 individuals and was followed by an additional three days of in-person application events at the Wohl Center, serving approximately 750 individuals. From December 18th through December 22, the program received well over 10,000 applications. With funding designed to support 9,300 families, the program application was temporarily paused for application processing and data assessment. Ongoing outreach to unhoused providers and to the undocumented community continued during this time with briefings held on in December and early January. Agencies representing these groups continued to partner with United Way between December 2021 through August 2022.
On average, applications took on average 14 days to process if all documentation was correctly submitted. However, more than 20 percent of applicants did not submit sufficient documentation, as required in Board Bill 2, and required additional follow up. The United Way contacted each individual with an incomplete application between 2-3 times at the email and phone number provided in the application. When it became clear that the first round of applications would not fulfill all 9,300 slots, targeted outreach began to geographies and demographics underrepresented in the initial application pool. This included outreach to senior homes, schools, and underrepresented wards. In total, to date, 18 different in-person application events were held.
As of August 19, 2022, the program has served 9,123 households. On average, the median income for these families was $1,112/month. Overall, the average family size served was two and the top uses for the funding included food (grocery purchases and dining), utilities, and automotive fuel; this excludes individuals who conducted ATM withdrawals and money transfers. The cost per card for this program is $3. In addition to this, there are program administrative costs that are part of the contract with the United Way.
The City also partnered with Missouri Jobs with Justice to survey recipients on their experiences. Residents reported a high need for financial support and shared that they used the money for basic necessities.
Read the Missouri Jobs with Justice Case Study.
Below is a map of direct cash disbursement by zip code as of August 19, 2022. Going forward, we plan to have a final report prepared by the end of November. We are working in collaboration with outside partners to produce a full assessment of the program that will include analysis on funding distribution, assess program impact and provide recommendations on future efforts.
Number of Direct Cash Assistance Cards by Zip Code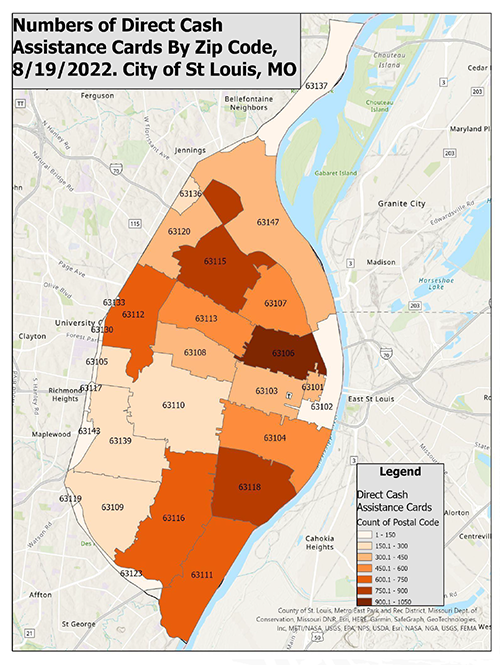 Number of Direct Cash Assistance Cards by Zip Code with Ward Overlay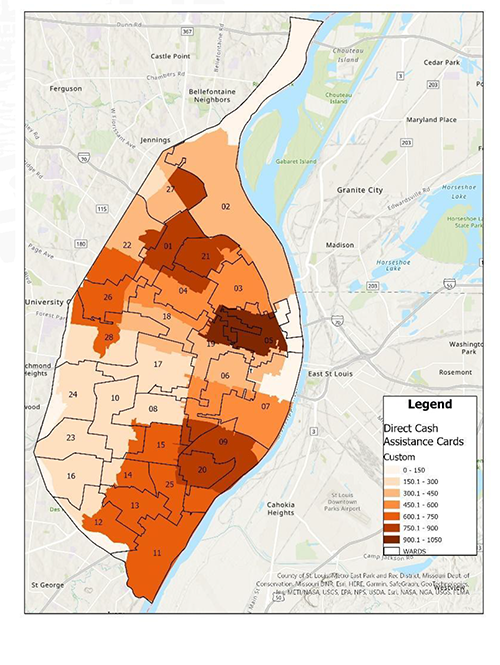 DCA Cards by Zip Code

| Top 20 Zip Codes | Number of Cards |
| --- | --- |
| 63106 | 917 |
| 63118 | 809 |
| 63115 | 764 |
| 63111 | 732 |
| 63116 | 722 |
| 63112 | 713 |
| 63113 | 575 |
| 63104 | 521 |
| 63107 | 484 |
| 63147 | 388 |
| 63103 | 388 |
| 63101 | 351 |
| 63108 | 343 |
| 63120 | 336 |
| 63110 | 288 |
| 63109 | 245 |
| 63139 | 216 |
| 63136 | 160 |
| 63102 | 61 |
| 63137 | 46 |