Continuum of Care (Coc) Plan
The City of St. Louis Continuum of Care plan organizes and delivers housing and services that meet the specific needs of people who are homeless.
About the City CoC Plan
A Continuum of Care (CoC) is a community's plan to organize and deliver housing and services to meet the specific needs of people who are homeless as they move to stable housing and maximum self-sufficiency.  
It includes action steps to end homelessness and prevent a return to homelessness.
The City of St. Louis Continuum of Care for Ending Homelessness is a broad based partnership to prevent people within the community from becoming homeless and to find ways to end homelessness in the St. Louis area.  More than 60 organizations and individuals committed to this goal make up the body of the CoC. 
Through interagency coordination and collaboration, the CoC provides homeless people with effective services and helps them obtain affordable housing. The CoC serves in an advisory capacity to the Division of Homeless Services of the Department of Human Services of the City of St. Louis.
Membership in the St. Louis City CoC is open to any organization – nonprofit, for profit, or governmental – that is committed to ending homelessness or assisting people who are homeless or at risk of becoming homeless. Applications for membership are to be submitted to the Secretary, and are subject to approval by a majority vote of the Board of Directors.  Each member organization must serve on at least one of the six CoC committees to be considered an active member.
General meetings are held at least six times per year.  The Board of Directors meets at least six times per year as well with meetings alternating months with the General meetings.  The Board is made up of the Chair, Vice-Chair, Secretary, the six Committee Chairs, and five At-Large Members (representatives of organizations that do not deal directly with homelessness).
2015 CoC Application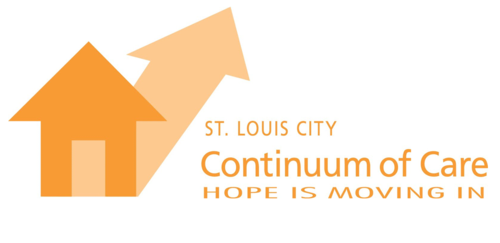 Meetings
All CoC meetings begin at 9:30am and are set at December's General Meeting for the following year.
Awards
2014 Honoree of Focus St. Louis What's Right With The Region