Yusef Scoggin
Director, Department of Human Services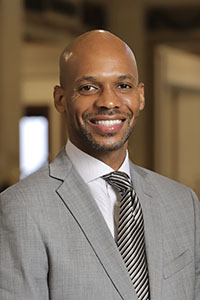 Dr. Yusef Scoggin currently serves as the St. Louis Director of Human Services. Prior to working for the City, he served as the Director of the Office of Family & Community Services for Saint Louis County Department of Human Services. His more than a decade of human service, nonprofit, and medical research experience informs the work performed to address the social determinants of health for youth, older adults, veterans, and those experiencing homelessness within the region. Yusef focuses on system changes that create opportunities for community members to realize their full potential.
Elevating the social determinants of health have been a key element of his service addressing homelessness, housing instability and food insecurity with regional Continua of Care (i.e. stakeholders addressing homelessness). As co-Chair of the Saint Louis Area Regional Commission on Homelessness (SLARCH), Yusef has helped lead regional collaboration of Saint Louis Metropolitan Area Continua of Care to combat housing insecurity and homelessness. Pre-pandemic involvement with regional Built for Zero community of practice work focused on addressing homelessness in the Saint Louis region with both structural system alignment and collective impact implementation led to significant reductions in Veteran homelessness. Pandemic response afforded his Office the opportunity to establish and provide quarantine/isolation for unhoused individuals impacted by COVID-19 throughout the region. The partnership with regional hospitals, community health centers, health departments and community organizations necessary to execute the quarantine/isolation operation have allowed the leveraging of resources that further connect vulnerable individuals or families to ongoing healthcare services. Deployment of federal pandemic funds (i.e. CARES Act and Emergency Rental Assistance Program) have been critical to mitigating displacement of individuals and families into homelessness while also meeting critical nutrition needs. Dr. Scoggin helped lead County food distribution efforts along with dissemination of approximately $40 million in rental and utility assistance for those impacted by the pandemic.
Yusef is passionate about the development of human capital through sustainable community development systems and partnerships. This interest in part is expressed through board service with the United Way of Greater St. Louis, Saint Louis Mental Health Board, Saint Louis Area Regional Commission on Homelessness (SLARCH), Behavior Health Network Adult Advisory Board, Central West End Southeast Special Business District, St. Louis City and County Continuum of Cares, Park Central Development Corporation and other service opportunities.
Contact Information
Address:
1520 Market St.
4th Floor #4065
St. Louis, Missouri 63103